The AFL Indigenous Team of the Century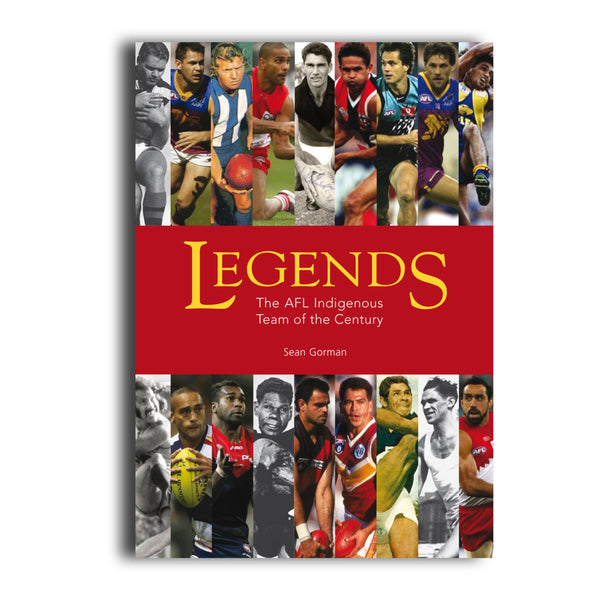 Indigenous Australians have given us some of our greatest football champions. With names like Farmer, Winmar, Long, Rioli and Goodes, the stories of Indigenous footballers are some of the most compelling in the great game of AFL. The journey for some has been one of great struggle and difficulty. For them, football was the only way out.
What makes their stories so important? This set of biographies uses the players own descriptions of their lives, their careers and the people who helped them achieve success. While some of these players have shared experiences, for others the story was different. All are inspirational.
From Farmer to McLeod, and Jackson to Matera, in the tradition of great Australian storytelling, these men's lives are great Australian stories about Aboriginal Football Legends!
Production details
Paperback
245mm x 170mm x 20mm
272pp
Released August 2011
ISBN

9780855757786
Contents
Acknowledgments
Author's Note
Introduction
Chapter 1: GRAHAM 'POLLY' FARMER
Chapter 2: TED 'SQUARE' KILMURRAY
Chapter 3: BILL DEMPSEY
Chapter 4: SYD JACKSON
Chapter 5: BARRY CABLE
Chapter 6: MICHAEL 'FLASH' GRAHAM
Chapter 7: MAURICE RIOLI
Chapter 8: STEPHEN MICHAEL
Chapter 9: GLENN JAMES
Chapter 10: JIM KRAKOUER
Chapter 11: MICHAEL McLEAN
Chapter 12: NICKY WINMAR
Chapter 13: CHRIS LEWIS
Chapter 13: MICHAEL LONG
Chapter 14: PETER MATERA
Chapter 15: GAVIN WANGANEEN
Chapter 16: DARRYL WHITE
Chapter 17: CHRIS JOHNSON
Chapter 18: MICHAEL O'LOUGHLIN
Chapter 19: ANDREW McLEOD
Chapter 20: BYRON PICKETT
Chapter 21: PETER BURGOYNE
Chapter 22: ADAM GOODES
Chapter 23: DAVID KANTILLA
Chapter 24: NORM McDONALD
Notes
Index
About the author
Dr Sean Gorman is a Research Fellow at the Centre for Aboriginal Studies, Curtin University, Western Australia. He is the lead investigator on research into the AFL's vilification laws and policies. He has had a long relationship with many of the players. His previous book, Brotherboys sold widely and was adapted for theatre.