My life on the gibber plains and beyond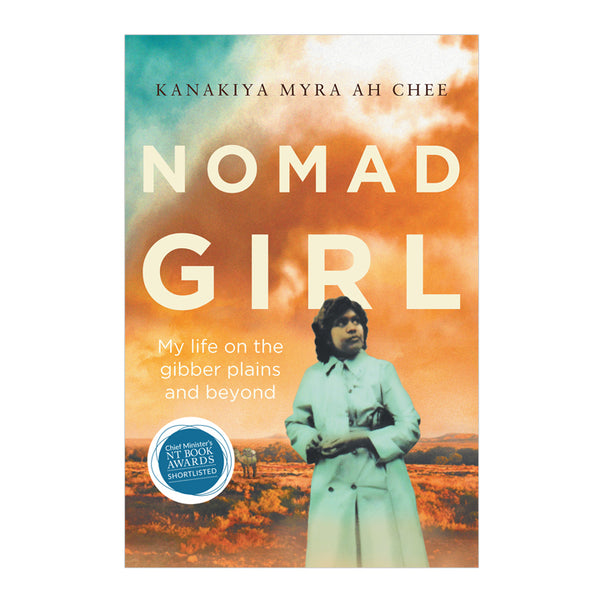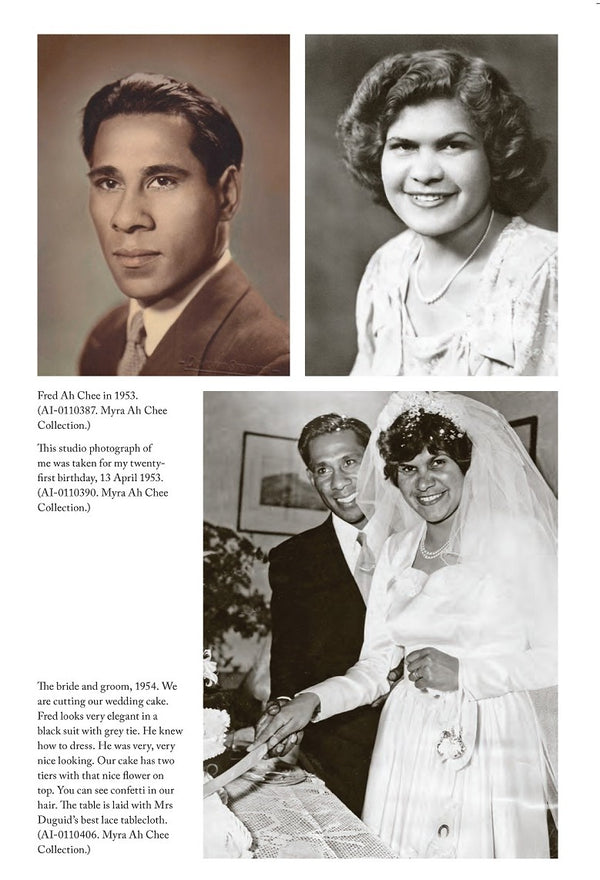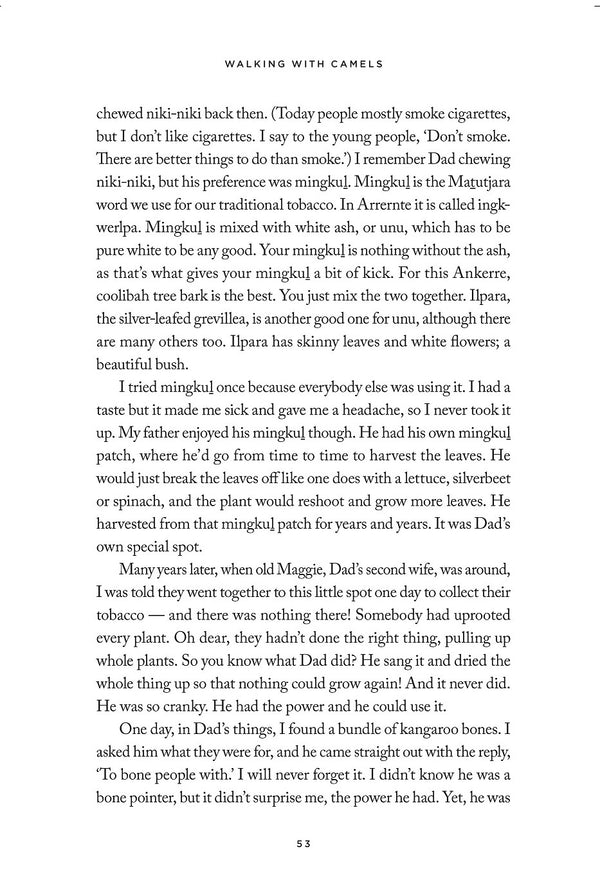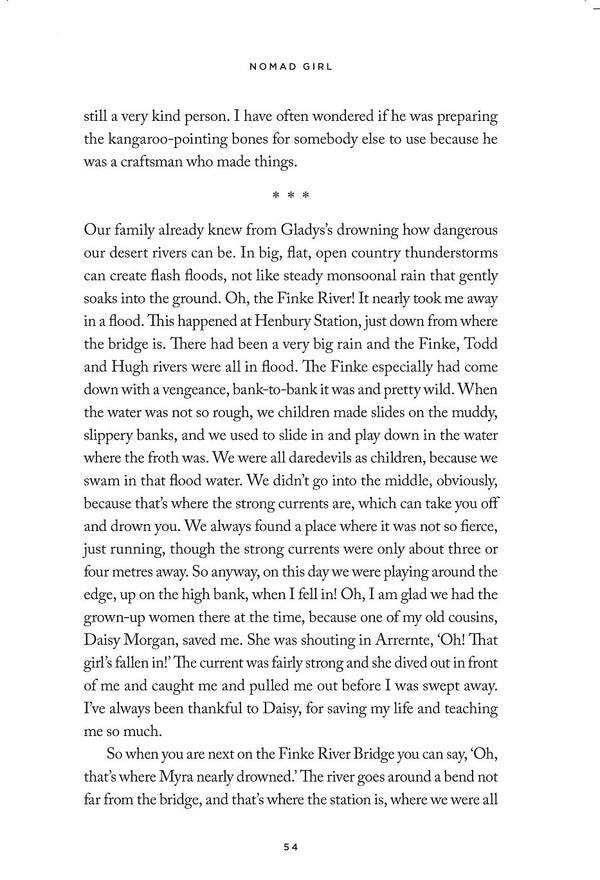 'There are so many stories to tell of my life, and sometimes I think they are not of importance, but they are, because often it is the little details that are the most important. I still remember every detail. [Like] Oodnadatta Country – I can still see it, in my mind's eye, exactly as it was back in my time. The Country still calls me back to where I was born, a very exposed and stony land, but I still love it. That's where my spirit is.'
'An inspiring, sprawling family story told by a remarkable woman in a time of extraordinary change.'
- Rachel Perkins
Kanakiya Myra Ah Chee was born at Oodnadatta in remote South Australia in 1932. When her mother tragically died Myra was only eight. Her grieving father gathered up the remaining family and walked north – away from her childhood home. They spent years as nomads, travelling with the camels that were her father's livelihood, up and down the Finke River. Her father sought work where and when he could, while he looked after his children, teaching them about the bush, their culture and life. It was a childhood of freedom, bush tucker, bush games, fires, stories at night and sleeping under the stars – at times idyllic but, at other times, terrifying and tragic. Myra's father was a safe and reassuring presence, but when he decided education was the key to his children's future, Myra's life was changed forever.

'My family pulled all their strengths together from the bush life and from school education. We have shown how it is possible to be successful in life, bringing both sides of our cultures into line. We managed to do it. I've straddled the old life and the new.' 
'Told through the powerful words of Kanakiya Myra Ah Chee
Nomad Girl is a moving story of strength and resilience. Recounted in meticulous detail, this story follows the life of a woman born on the Oodnadatta in remote south Australia through her education on Country, to the western class, to her life as a translator of various Western Desert languages and founder the Institute for Aboriginal Development Interpreter Training program and a well-known artist. This is a story that the nation needs to read.'
- Associate Professor Jeanine Leane, The University of Melbourne, Wiradjuri writer, poet and academic
 'From the lively child travelling with her father and siblings along the Lhere Pirnte (Finke) river, to the proud grandmother, artist and interpreter of today, the robust, engaging voice of Myra Ah Chee braids together the many strands of a wonderfully well-lived life. This is, more than anything, a story of family – of a father caring for his motherless children, of older siblings caring for younger, of a web of relationships that nurture and protect and mitigate the impacts of racism and inequity. It is also the story of how family is woven into country, and different ethnicities are subsumed into an all-embracing Aboriginal identity.
It's a book for our times, and an important addition to the growing literature of Indigenous storytelling.'
- Kim Mahood
Production Details
Paperback
230mm x 153mm
256pp (16 pages colour)
Released 1 November 2021
ISBN 978-1-922059-83-3
Contents
List of Illustrations
Prologue
Chapter 1: My Desert Rivers People
Chapter 2: Growing up in Stone Country
Chapter 3: Everything Changes
Chapter 4: Walking with Camels
Chapter 5: Big Country, Big Family
Chapter 6: Colebrook Home Days
Chapter 7: Getting out in the World
Chapter 8: Return to the Centre
Chapter 9: It is all Tjukur
Chapter 10: Last Words
Notes
My Family
Afterword by Linda Rive
Acknowledgments
About Kanakiya Myra Ah Chee
About Linda Rive
About The Author
Kanakiya Myra Ah Chee was born in the Australian Inland Mission Hospital in Oodnadatta in 1932 and grew up living in a watuti (lean-to) on the fringes of Oodnadatta township. Fluent in her language – Matuntjara – Myra is an interpreter and translator of the various dialects of the Western Desert Language, and worked for many years training interpreters. She is an artist, inspired by her unique
life amongst the gibber plains, sand dunes, river systems and stony deserts of her father's, mother's and grandparents' traditional country. Myra has just turned 89 years old and is now retired. She has three grandchildren and lives in Alice Springs.
About The Cover
Front cover photos: Myra aged nineteen at Morialta Falls in the Adelaide Hills, c. 1951. (AI-0110234, Myra Ah Chee collection); gibber country in the Oodnadatta region (Photo: Jocelyn McConnell, AI-0109967, Jocelyn McConnell Collection); small image of Myra's father Dick Taylor and his second wife Maggie and their son Robert with camels at Titjikala, 1957 (AI-0110358, Myra Ah Chee Collection).

Back cover photos: Photo of Myra taken for her 21st birthday, 1953 (AI-0110390); and Fred Ah Chee with his Indian motorbike and sidecar with friend George Tongerie riding pillion and his wife Maude in sidecar with son Peter, early 1950s (AI-0174119) (both Myra Ah Chee collection).