Aborigines and the 'Sport of Kings'
Aboriginal jockeys in Australian racing history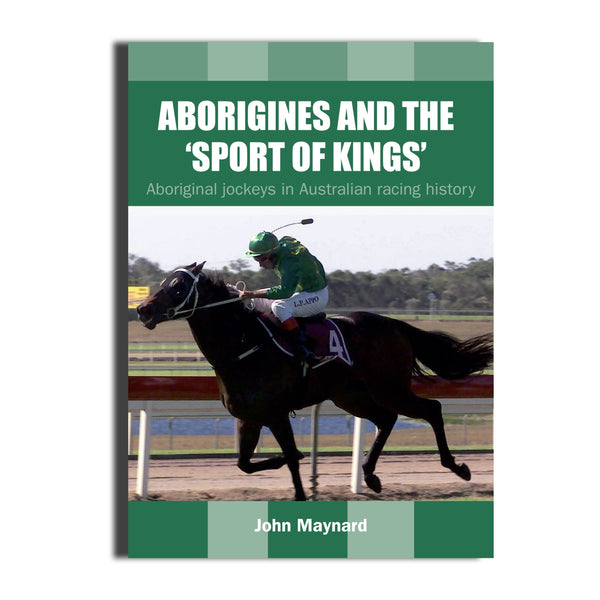 Aborigines and the 'Sport of Kings' third edition celebrates the significant and exciting involvement of Aboriginal people in Australian racing history.
The result of Maynard's historical research and insider's perceptions is a remarkable social and sports history of one of Australia's most popular cultural institutions.
The book is a valuable curative to the apparent disinterest shown by academic historians of society, culture and sport, as well as sports journalists. Biographies, anecdotes and photographs enliven the text.
Production Details
Paperback
240mm x 170mm x 15mm
164pp
Released November 2013
ISBN 

9781922059543
Contents
Foreword by Richard Waterhouse
Preface
Acknowledgements
Introduction: Aboriginal jockeys — a proud past but an uncertain future?
PART I: BEHIND THE BARRIERS — THE BACKGROUND TO INDIGENOUS INVOLVEMENT IN RACING
The Arrival of the horse
Off and Racing: Characters and yarns from the Inner Sanctum
Identity, Racing and Racism
Aboriginal Women in Racing
To the Finish Line
PART II: RIDING HIGH: THE STARS OF THE TURF
Peter St Albans
Rae 'Togo' Johnstone
David Hugh 'Darby' Munro
Merv Maynard
Frank Reys
Norm Rose
Richard Lawrence 'Darby' McCarthy
Leigh-Anne Goodwin
PART III: AHEAD OF THE FIELD- MORE INDIGENOUS AUSTRALIAN JOCKEYS
Charlie Flannigan
Percy Kennedy
Massa Read
Jimmy Dries
Besley Murray
Stan Johnson
Kenny Broderick
Barry Hagan
Frank and Jack Duval
Doug Hodgson
Gordon Taylor
Jimmy Leslie
Harry Fuller
Bill O'Brien
David Mathews
Merv Marion
Reg 'Punter' Hart
William Lord
Geoff Booth
Glen Pickwick
Lyall Appo
Bradley Appo
Paul Timbery
Rosalyn and Rod Bynder
Gaynor Chambers
Bibliography
Index
About The Author
Professor John Maynard is one of the most prolific and respected voices writing about Aboriginal history. He has won awards, is in demand as a speaker and as an advisor for television programs. He is Professor of Aboriginal Studies, Newcastle University, and currently an ARC research fellow.
His most recent publication is The Aboriginal soccer tribe (Magabala) while his previous publications with Aboriginal Studies Press include popular Fight for liberty and freedom and he was also a contributor to Uncommon ground.
About The Cover
 Front cover: Lyall Appo winning the Mansell Concrete 1200mm on Youthful, 2002. Photograph by Barry Pascoe, courtesy Newspix.