Conflict and creativity in outback Australia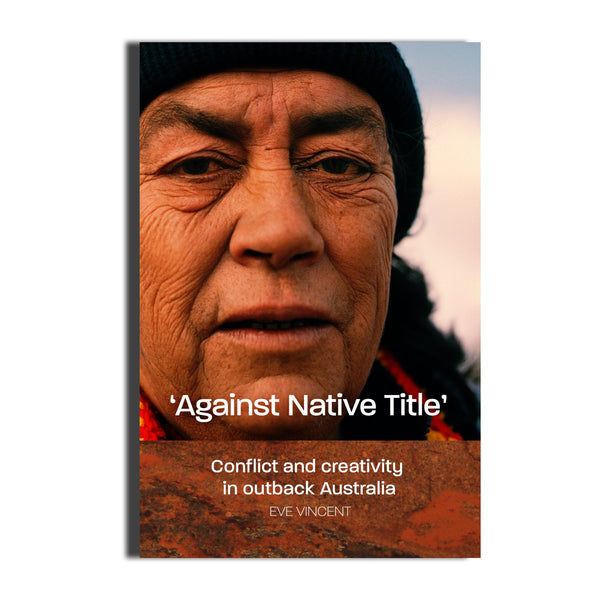 'Against native title' is about a divisive native title claim in the town of Ceduna where the claims process has thoroughly reorganised local Aboriginal identities over the course of the past decade.
The central character in this story is senior Aboriginal woman Sue Haseldine, who, with her extended family, have experienced native title as an unwelcome imposition: something that has emanated from the state and out of which they gained only enemies.
But this is not simply a tale of conflict. Threaded throughout is the story of a twice-yearly event called 'rockhole recovery'; trips that involve numerous days of four-wheel drive travel to a series of permanent water sources and Dreaming sites.
Through rockhole recovery Sue Haseldine and her family continue to care for, and maintain connections to country, outside of the native title process.

This is a vivacious and very human story, which pursues a controversial and much neglected line of enquiry in which native title is not necessarily seen as a force for recognition and Indigenous empowerment.
Production Details
Paperback
215mm x 140mm x 15mm
212pp
Released August 2017
ISBN

 9781925302080
Contents
Acknowledgments
Map of Ceduna and surrounds
Introduction
Chapter 1: Heading 'out the back'
Chapter 2: 'Rockholes all over the place'
Chapter 3: The making of 'mission mob'
Chapter 4: Spectres of 'Welfare'
Chapter 5: Memories of the 'old ways'
Chapter 6: 'We know who we are'- the impact of native title on local identities
Chapter 7: Engaging the historical record
Chapter 8: Fighting about native title
Chapter 9: Tending to rockholes
Chapter 10: Making assertions
Chapter 11: Where dingoes howl
Chapter 12: Where dogs reign
Epilogue
Notes
Bibliography
Index
About The Author
Eve Vincent is a senior lecturer in the Department of Anthropology at Macquarie University. She has written on a wide range of Australian social issues such as Indigenous-settler relations, environmentalism, welfare reforms, multiculturalism and schooling, and meat eating.

Her writing has been published in numerous scholarly journals as well as Sydney Review of Books, The Conversation, Griffith Review, Meanjin, Overland, and Arena Quarterly.
About The Cover
 Cover image: Sue Coleman Haseldine, 2010. Photograph: Jessie Boylan.
 Detail: Rockhole after heavy December rain. Photograph: Eve Vincent.