Australia: The Vatican Museums Indigenous Collection
The Vatican Museums Indigenous Collection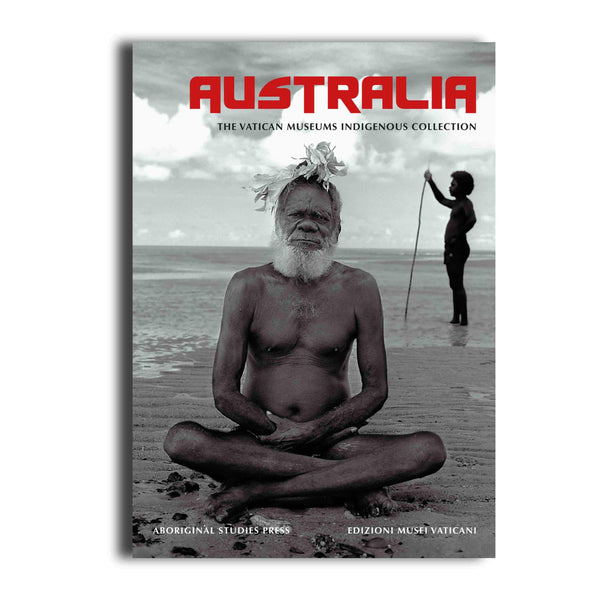 From the ancient Etruscans and Romans, to the Renaissance masters of Michelangelo and Raphael, the Vatican Museums represent an aspect of the history of humanity through art. The Indigenous Australian collection is a little known and an unexplored part of that story.
Being amongst some of the earliest known documentations of Australian Indigenous cultures, the collection includes the earliest extant set of Pukumani poles from Melville and Bathurst Islands alongside more recent contributions of artworks and cultural objects, and presents materials that have not been exhibited before in Australia.
The responsibility to culturally reconnect relevant contemporary Indigenous communities to their material heritage held in the museum has been realised and is documented in this catalogue, which includes a catalogue of objects, and essays by Indigenous and non Indigenous authors. During the process of community visits and consultations, images of the objects brought old and young people together, instigating intergenerational dialogue about the past.
Production Details
Paperback
300mm x 210mm x 30mm
400pp
Released Jan 2018
English edition ISBN 9788882714116
Italian edition ISBN 9788882714109
Excerpt
Contents
About The Author
Katherine has worked as a historian, filmmaker and ethnologist with cultural Elders and knowledge holders around Australia and overseas on issues of cultural heritage protection.
Her ethnographic film experience started when she was 21 living with Dyak people of central Kalimantan, Indonesia. Documenting ancestral worship rituals, she also witnessed the clear-fell logging affecting the region.
Katherine filmed cultural custodian Loraine Mafi-Williams in northern NSW over a three-year period and draws on longitudinal research with the family for her thesis. The life and  events around Mafi-Williams instilled a deep interest not only in Indigenous custodianship, but also in how local, national and international politics intersect, impede, and influence traditional roles.
About The Cover
Front cover: Aloisius Puantulura with ceremonial cockatoo feathers, and a young relative in the background, Tiwi Islands, NT, 1988. Photo by Heide Smith, with kind permission from Aloisius's daughter and family.
Back cover: Yvonne O'Neil, Pilgrimage, 2010 (cat. 63)
This painting was gifted to the Vatican Museums by the artist on the occasion of the Canonisation of Sr Mary MacKillop