Australian Aboriginal Studies (AAS) Journal 2021 (Issue 1 and 2)
Journal of the Australian Institute of Aboriginal and Torres Strait Islander Studies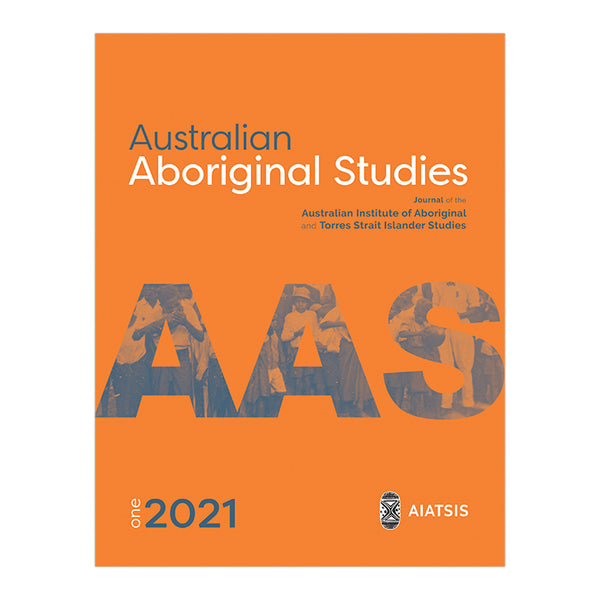 Australian Aboriginal Studies Journal (AASJ) is an interdisciplinary, peer-reviewed journal promoting high-quality research in Australian Indigenous studies, with a focus on the humanities and social sciences. It is published for a wide audience in both print and digital form, and visual content is encouraged.
The journal is released twice each year. Both available in digital and hard copy format.
Print:
Purchase the 'Print' journal and receive hard copies of issues 1 and 2 of the AAS Journal.  
Individuals, organisations and students can subscribe to Australian Aboriginal Studies. Standing orders are available for organisations. 

Please contact ASP to enquire about digital access to journal issues prior to 2018. 
Production Details
Issue 1
paperback

246mm x 189mm (paperback)

78pp

Released October 2021

ISBN 2370001589537
Issue 2
paperback

246mm x 189mm (paperback)

pp (to be advised when released)

Released TBC 2022

ISBN (to be advised when released)
Excerpt
Content
Issue 1
Major Articles
Data for action: The Family and Community Safety for Aboriginal and Torres Strait Islander peoples (FaCtS) Study
Aboriginal Redfern then and now: between the symbolic and the real
'Pride of Yarrabah': Yarrabah's annual sports days as historical Aboriginal spaces
Archiving First Nations media: the race to save community media and cultural collections
Book reviews
Robert Malcolm Ward Dixon
Australia's original languages: an introduction
(Reviewed by Alan Rumsey)

Samia Khatun
Australianama: the South Asian odyssey in Australia
(Reviewed by Tandee Wang)
Issue 2
Content TBC 
About The Author
The ASS Journal comprises of many contributing authors. For more information on contributors, please refer to the content section above.
About The Cover