The Aboriginal and Islander Sports Hall of Fame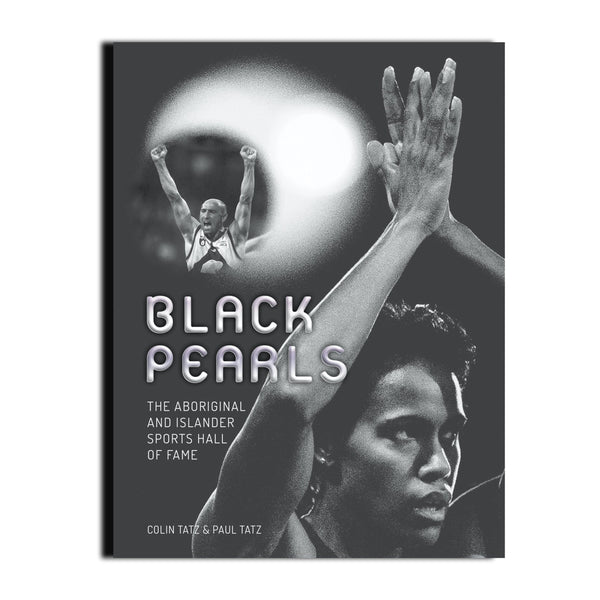 Evonne Goolagong, Cathy Freeman, Nova Peris, Lionel Rose, Artie Beetson, Polly Farmer are just a few of our Australian sporting heroes who, since the mid-1880s, have helped shape Australia's identity as a great sporting nation. They, along with 261 other individual sporting greats, are showcased here in this new edition of the Aboriginal and Islander Sports Hall of Fame.
Spanning 36 sports across a period of 166 years, Black Pearls presents some of our Olympic heroes, superb sportswomen, football giants, boxing legends, lightning sprinters and more - from darts champions to world class weightlifters and woodchoppers.
Black Pearls is more than a sports book. It reveals a history of inclusion and exclusion, about Aboriginal determination in the face of enormous obstacles, and resilience in overcoming remoteness, discriminatory laws, incarceration on isolated reserves, and opponents in a variety of sports arenas.
Production Details
Paperback
272mm x 208mm x 25mm
400pp
Released May 2018
ISBN 

9781925302950


Contents
Foreword: Craig Ritchie, Chief Executive Officer, AIATSIS
Thanks
Chapter 1: The Hall of Fame
Chapter 2: Singular Sports
Chapter 3: Athletics
Chapter 4: Australian Football
Chapter 5: Badminton
Chapter 6: Basketball
Chapter 7: Boxing
Chapter 8: Cricket
Chapter 9: Darts
Chapter 10: Disabled Sports
Chapter 11: Hockey
Chapter 12: Horse Sports
Chapter 13: Netball
Chapter 14: Powerlifting
Chapter 15: Rugby League
Chapter 16: Rugby Union
Chapter 17: Soccer
Chapter 18: Softball
Chapter 19: Squash
Chapter 20: Tennis
Chapter 21: Touch Football/Oztag
Chapter 22: Volleyball
Chapter 23: Water Polo
Chapter 24: Woodchopping
Chapter 25: Wrestling
Addendum I: Olympic and Commonwealth Games Representatives
Addendum II: Hall of Fame Members
Addendum III: The Eras of Achievement
General Index
Index of Aboriginal and Islander Sportspeople
About The Author
COLIN TATZ was born and educated in South Africa. He has PhD in Aboriginal administration and was Professor of Politics at the University of New England and Macquarie Universities.
He is the author of 25 books including Obstacle Race: Aborigines in Sport.
PAUL TATZ was born in South Africa and raised in Australia where he studied as a professional photographer at the Sydney School of Arts.
He is the co-author of two books with Colin Tatz; Black Diamonds (Allen & Unwin, 1996) and Black Gold: The Aboriginal and Islander Sports Hall of Fame (Aboriginal Studies Press).
About The Cover
Front cover: Catherine (Cathy) Freeman (courtesy of John Fairfax Holdings) and Peter Matera (News Limited).
Back cover: Tony Mundine (John Fairfax Group).