Songs from the Kimberleys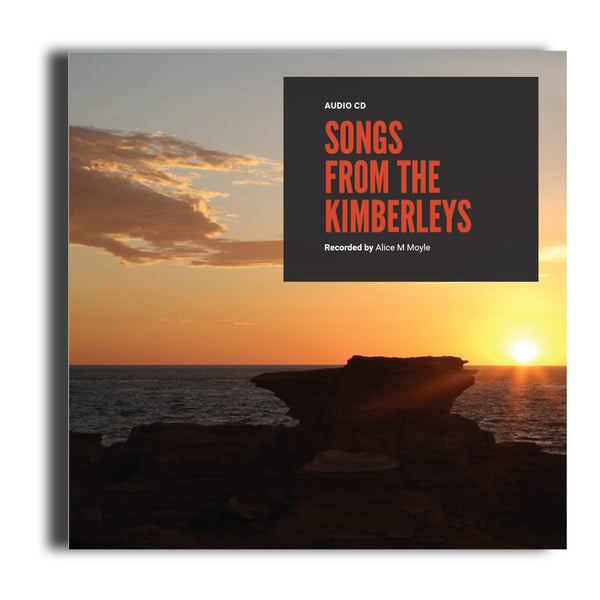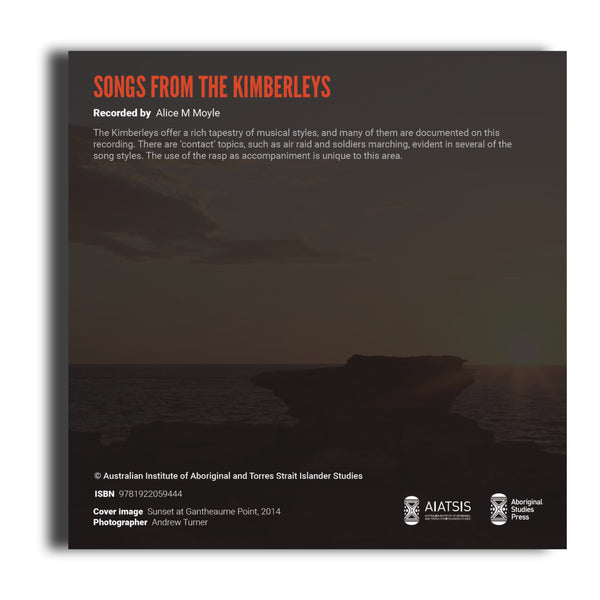 The Kimberleys offer a rich tapestry of musical styles and many of them are documented on this recording. There are 'contact' topics, such as air raid and soldiers marching, evident in several of the song styles. The use of the rasp as accompaniment is unique to this area.
Aboriginal Studies Press acknowledges the financial support from Dr Carolyn Lowry OAM and Mr Peter Lowry OAM in digitising some of the liner notes of Alice Moyle's recordings.
Production Details
CD

124mm x 142mm x 10mm
Released 1996
ISBN

9780855756499
Track List

1. Boomerang clapsticks only
2. Voice & boomerang clapsticks
3. Voices & boomerang clapsticks
4. Voices & boomerang clapsticks
5. Voices & boomerang clapsticks
6. Voice & boomerang clapsticks
7. Voice & boomerang clapsticks
8. Voice & boomerang clapsticks
9. Voice & boomerang clapsticks
10. Voices & rasp
11. Seed pod rattles & skin drum
12. Voices with seed pod rattles, skin drum & stick against-hollow log
13. Didjeridu
14. Voice, paired sticks & didjeridu
15. Voices, sticks beating & didjeridu
16. Voices, paired sticks, lap-slapping
17. Bamboo whistle
18. Voices & large paired sticks
About the cover
Cover image: Brolga. Photograph by Graeme Chapman