Conflict, Adaptation, Transformation
Richard Broome and the Practice of Aboriginal History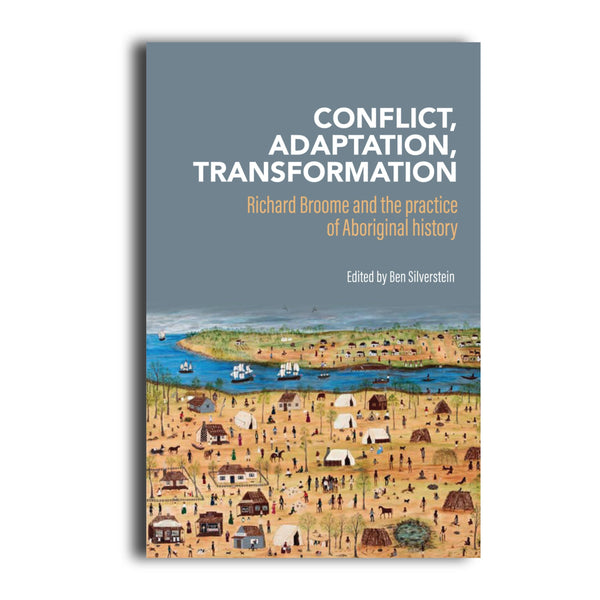 This collection traces the legacy of Richard Broome's pathbreaking work in Aboriginal history by presenting innovative work that assesses and transforms a broad range of important debates that have captured both scholarly and popular attention in recent years.

The book brings together a range of prominent and emerging scholars who have been exploring the contours of the field to make notable contributions to histories of frontier violence and missions, Aboriginal participation in sport and education, ways of framing relationships with land, and the critical relevance of Aboriginal life history and memoir to re-considering Australian history.
Readers will be interested in the novel arguments on Indigenous networks and mobilities, of memoirs and histories, frontier violence, massacres, and the History Wars, as well as Noel Pearson and issues of paternalism in Aboriginal politics.
Production Details
Paperback
125mm x 140mm x 12mm
240pp
Released March 2018
ISBN 

9781925302530
Contents
Foreword by Lynette Russell
List of Illustrations
Acknowledgements
Contributors
Chapter 1: Voyaging with hope- Richard Broome and the ethics of Aboriginal history
Chapter 2: Aboriginal agents, victims and voyagers- Richard Broome's contribution to the debate about the frontier wars in Victoria
Chapter 3: On Paternalisms and Aboriginal Agency- From missions to neoliberal policy in the work of Richard Broome and Noel Pearson
Chapter 4: The philosophy, opinions and inspiration of Jack Johnson
Chapter 5: Nyungar domains- Reading Gyalliput's geography and mobility in the colonial archive
Chapter 6: 'Memoirs of an Aboriginal Woman' by Theresa Clements- Reflections on my great grandmother's life
Chapter 7: Aboriginal education, meritocratic scholarships and the Country Women's Association of NSW 1962–1972
Chapter 8: A different courage- 'Radical Hope' and the continuous strand of Aboriginal agency in Victoria
Chapter 9: How do you teach Aboriginal history?
Appendix: Richard Broome's publications on Aboriginal history
Notes
References
About The Author
Ben Silverstein is a Postdoctoral Research Fellow at the Australian National University, working on the Australian Research Council Laureate Fellowship program titled 'Rediscovering the Deep Human Past', which engages with the long duration of Indigenous history in Australia. He has researched in colonial and Indigenous histories, on questions of race and settler colonialism, as well as contests over sovereignties and colonial government. He first taught Aboriginal History at La Trobe University. He is the editor of Conflict, Adaptation, Transformation: Richard Broome and the Practice of Aboriginal History (2018), and the author of Governing Natives: Indirect Rule and Settler Colonialism in Australia's North (2019).

About The Cover
Cover Image: 'Land Lost, land stolen, treaty' 2016, Marlene Gilson (Wadawarrung), Purchased 2017, City of Melbourne Art and Heritage Collection. Photographer: Patrick Rodriguez.