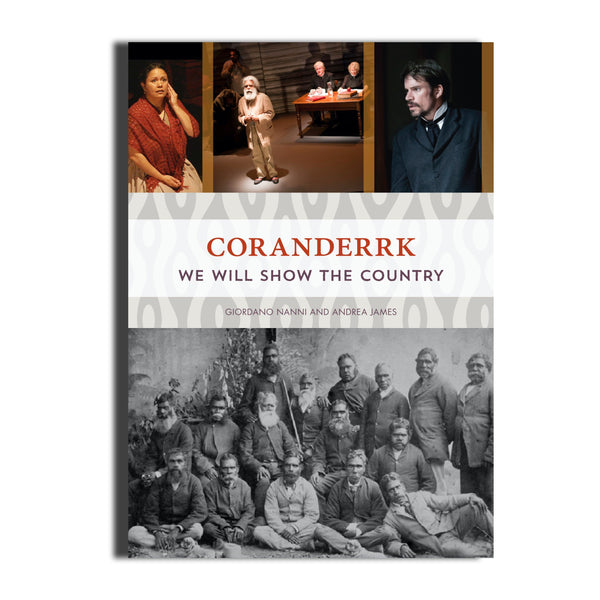 The Aboriginal people of Coranderrk reserve in central Victoria waged a sustained campaign for justice, land rights and self-determination in colonial Australia. Despite having created an award-winning farm they were targeted for removal. Their lobbying of government, with their white supporters, triggered a Parliamentary Inquiry in 1881.
Coranderrk: We will show the country derives from a verbatim-theatre performance where professional actors brought to life the Inquiry's witnesses.
In Coranderrk their powerful petitioning, including the renowned William Barak, can be read alongside that of their non-Aboriginal allies, as well as the Aboriginal Protection Board and greedy local pastoralists who wanted them removed.
Coranderrk includes a historical introduction, biographies of the witnesses, and a range of historical images and stills from a theatrical production.
Production Details
Paperback
230mm x 188mm x 15mm
176pp
Released October 2013
ISBN

9781922059390
Contents
Foreword
Acknowledgements
A note on terminology
List of abbreviations
Introduction
Chapter 1: A brief history of Coranderrk, 1835-1881
Chapter 2: Coranderrk- We Will Show the Country
Chapter 3: The aftermath, 1881-1924
Chapter 4: The making of Coranderrk
Appendix: Timeline of key events
Notes
Select Bibliography
Index
About The Author
Giordano Nanni is a writer, historian and Senior Research Fellow in the School of Social & Political Sciences at the University of Melbourne.
Andrea James is a Yorta Yorta/Kurnai playwright, director and theatre maker specialising in the development and presentation of Aboriginal Arts and Culture.
About The Cover
Front cover: (Upper image) Actors Melodie Reynolds
(Left) Uncle Jack Charles, Peter Finaly & Liz Jones (centre); and Tom Long (right) performing Coranderrk. Photos by Steven Rhall and the MOE project. (Lower image) The Coranderrk men on a deputation into Melbourne (1886). Source: the State Library of Victoria, H141267