Does the media fail Aboriginal political aspirations?
45 years of news media reporting of key political moments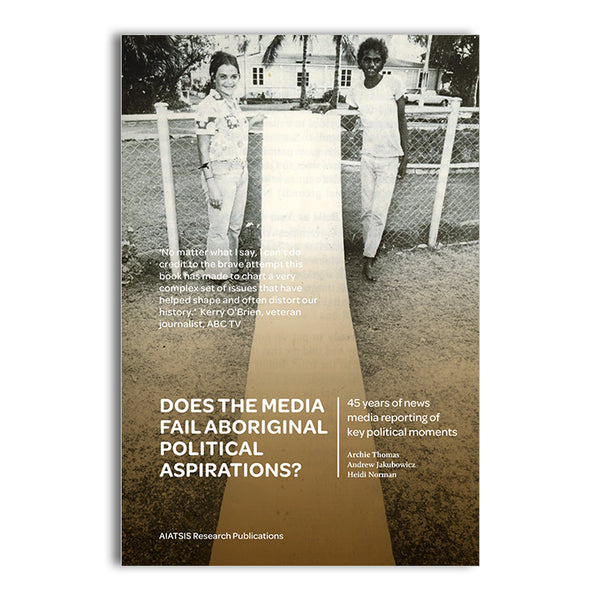 For too long Australia's media has failed to communicate Aboriginal political aspirations. This unique study of key Aboriginal initiatives seeking self-determination and justice reveals a history of media procrastination and denial.

A team of Aboriginal and non-Aboriginal researchers examine 45 years of media responses to these initiatives, from the 1972 Larrakia petition to the Queen seeking land rights and treaties, to the desire for recognition expressed in the 2017 Uluru Statement from the Heart. This analysis exposes how the media frames stories, develops discourses, and supports deeper historical narratives that corrode and undermine the intent and urgency of Aboriginal aspirations, through approaches ranging from sympathetic stalling to patronising parodies.
This book can be used by media professionals to improve their practices, by Aboriginal communities to test media truth-telling and by anyone seeking to understand how Aboriginal desires and hopes have been expressed, and represented, in recent Australian political history.
"No matter what I say, I can't do credit to the brave attempt this book has made to chart a very complex set of issues that have helped shape and often distort our history."

- Kerry O'Brien


Production Details
Paperback
245mm x 165mm x 15mm
280pp
Released February 2020
ISBN 

9780855750848
Contents
Tables
Acknowledgments
Foreword
Preamble
Executive Summary
PART 1: Introduction (Archie Thomas, Andrew Jakubowicz and Heidi Norman)
PART 2: Case Studies
PART 3: Findings (Archie Thomas, Andrew Jakubowicz, Heidi Norman)
References
About The Author
Archie is an academic in the Faculty of Arts and Social Sciences at the University of Technology Sydney, where they were also a 2018 Shopfront Community Research Fellow. Their PhD research focuses on ideas of self-determination and assimilation in Indigenous bilingual schooling. For an essay on this topic, they won the Northern Territory Literary Award in 2018. They have published in academic and popular press, including Sexualities, History Australia, Crikey, Overland Literary Journal, The Lifted Brow and New Matilda. Along with their colleagues they were awarded the UTS Vice-Chancellor's learning futures award for team teaching in 2018.

Heidi Norman is a Senior Lecturer in the Social and Political Change group, core member of CCS and member of the Southern Theory and Environment and Communication Programs. She researchers and publishes in the areas of NSW Aboriginal history and politics with a particular focus on land and its management and the Aboriginal administrative domain. Her Aboriginal Land rights in NSW study, is a critical account of the interface between the Government's construction of Aboriginal interests in land and the emerging governance of those land and interests by Aboriginal citizens through their land councils. She is a descendant of the Gomeroi people in north-western NSW.

Andrew Jakubowicz is Emeritus Professor of Sociology at the University of Technology Sydney and worked as a consultant researcher on this report. Since the early 1970s he has been involved in action research and race relations, and has been centrally involved in the development of materialist theories of cultural diversity. He has published widely on ethnic diversity issues, disability and media studies in the academic and popular press, and has published numerous books, including the cowritten Racism, ethnicity and the media in 1994 and 'For those who've come across the seas': Australian multicultural theory.


About The Cover
Cover image: Tessa Ferguson and Edwin Jangalaros presenting the Larrakia petition outside Government House, Darwin.
Back cover image: (L-R) June Oscar AO, Bunuba woman and Aboriginal and Torres Strait Islander Social Justice Commissioner; Pat Anderson AO, Alyawarre woman and Chairperson of the Lowitja Institute; Sally Scales, Pitjantjatjara woman and Deputy Chairman of the APY Lands Executive Board and Chairman of the Anangu community.