Encounters with Indigeneity
Writing about Aboriginal and Torres Strait Islander peoples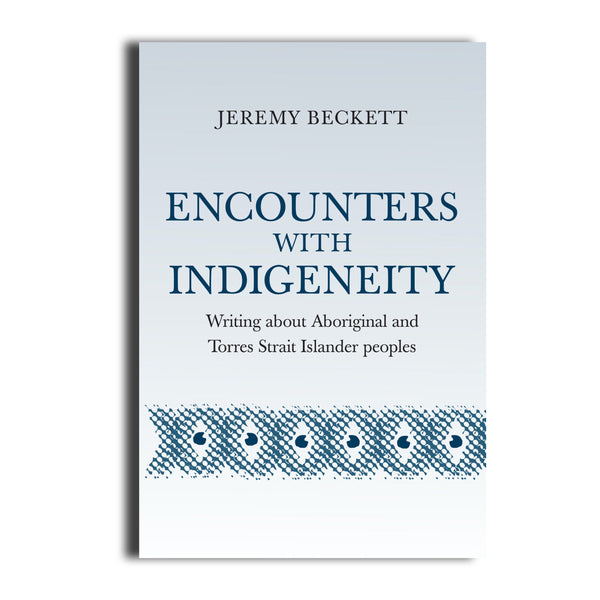 For four decades Jeremy Beckett has shone a light on previously marginalised fields of life. While the many went in search of 'traditional culture', Beckett was fascinated to learn how people who often lacked wider recognition of their Aboriginality went about their lives. In the process he changed our understandings of those people and highlighted the issues they confronted. He has enriched our appreciation of the diversity of Indigenous identities and experiences.
He was an expert witness leading up to the Mabo decision, and has brought Australian Indigenous studies into a world framework.
His work continues to be influential to many: those who revisit his ideas here; and those who are newer to his work.
Production Details
Paperback
230mm x 155mm x 15mm
288pp
Released November 2014
ISBN 

9781922059772
Contents
Foreword by Professor Tim Rowse
Acknowledgments
Introduction
Chapter 1: George Dutton's Country- Portrait of an Aboriginal Drover
Chapter 2: Walter Newton's History of the World — or Australia
Chapter 3: Aboriginal Histories, Aboriginal Myths- An Introduction
Chapter 4: Autobiography and Testimonial Discourse in Myles Lalor's 'Oral History'
Chapter 5: The Torres Strait Islanders and the Pearling Industry- A Case of Internal Colonialism
Chapter 6: Rivalry, Competition and Conflict Among Christian Melanesians
Chapter 7: Mission, Church and Sect- Three Types of Religious Commitment in the Torres Strait Islands
Chapter 8: 'Knowing How to Talk to White People'- Torres Strait Islanders and the Politics of Representation
Chapter 9: The Murray Island Land Case
Chapter 10: Aboriginality, Citizenship and Nation-State
Chapter 11: Contested Images- Perspectives on the Indigenous Terrain in the Late Twentieth Century
Index
About The Author
Jeremy Beckett taught anthropology at the University of Sydney, was a Visiting Professor at the City University of New York Graduate Center, the Australian National University, New York University, and the University of Texas at Austin. He has carried out long term field research with Australian Aboriginal people and Torres Strait Islanders including ethnomusicology, has been involved in native title recognition and in the contextualisation of Indigenous identities in the postcolonial world.