People of the Valley of Lagoons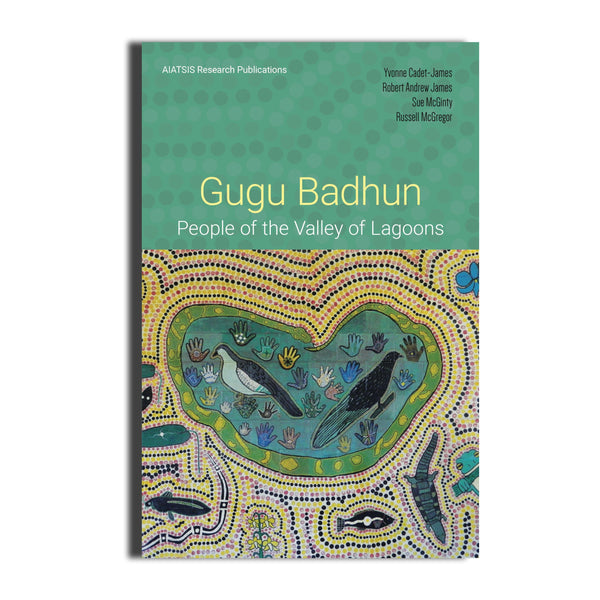 Bridging historical scholarship and Aboriginal oral tradition, this innovative book tells the story of the Gugu Badhun people of the Valley of Lagoons in North Queensland. It provides new insights into Aboriginal-European interactions, and new understandings of how Aboriginal people sustained their identities and exercised agency.
It lays bare violence and oppression, but also recognises the interracial cooperation and friendships which were equally part of Gugu Badhun experience. It tells of a people whose options were limited by state power and public racism but who remained proud and undaunted, making their own decisions for their collective and individual benefit.
Production Details
Paperback
230mm x 155mm x 13mm
184pp
Released June 2017
ISBN 

9781922102645
Excerpt
Contents
About The Author
Yvonne Cadet-James is a Gugu Badhun woman from the Valley of Lagoons in north Queensland. She is passionate about self determination for Gugu Badhun people and has been involved in the many associated activities including the Gugu Badhun successful Native Title Determination in 2009. As an academic one of her research interests lies in recording the history and language of the Gugu Badhun people. Her other passion is empowering young people to make informed choices to reach their full potential.

Robert James came to north Queensland in 1976 to assist the mining of minerals on what he did not then know was Gugu Badhun country. A background in accounting, economics and mining had brought him to the region, and a lifestyle change in 1995 led him into studying history at JCU. This enabled him to commence post-graduate studies in 2006, taking on the research project in 2006 instigated by Gugu Badhun people through James Cook University which is the basis of this book. Sue McGinty is an Adjunct Professor in the Australian Aboriginal and Torres Strait Islander Centre, Office of the Senior Deputy Vice Chancellor at JCU. She is now retired,

Prof McGinty has worked in the fields of Education and Indigenous Australian Studies as a teacher and researcher with special expertise in Indigenous Education. She has won several nationally competitive grants to examine ways of reengaging young people who have disengaged from schooling, and to create digital repositories for Indigenous histories. She has published many papers in her field of research as well as on issues in higher education. She has been a successful supervisor of graduate students winning an Australian Learning and Teaching Program Award for Postgraduate Teaching and Supervision in 2009. Russell McGregor is an Adjunct Professor of History in the College of Arts, Society and Education. Before his retirement in 2013, he taught modern world history, Australian history and historiographic theory at James Cook University.

His most recent book is Idling in Green Places: A Life of Alec Chisholm, which tells the story of a pioneer conservationist who once ranked among Australia's most popular nature writers. Earlier publications include the award-winning books Indifferent Inclusion: Aboriginal People and the Australian Nation (winner of the 2012 NSW Premier's Prize for Australian History; shortlisted for the 2012 Prime Minister's Prize for Australian History) and Imagined Destinies: Aboriginal Australians and the Doomed Race Theory (winner of the 1998 WK Hancock Prize for History). Another book is an environmental history of the Australian tropics, Environment, Race and Nationhood in Australia: Revisiting the Empty North. Russell is also co-author of a history of a north Queensland Aboriginal group, Gugu Badhun: People of the Valley of Lagoons. As well as these books, he has published numerous articles and chapters, mainly on the history of racial ideas, Aboriginal policy, Australian nationalism, northern Australia and environmental history.

His current research is in two main areas: the environmental history of northern Australia and the history of popular natural history in Australia.
About The Cover
Cover image: 'Gugu Badhun creation story' Harry Gertz, Shannon Gertz and Vanessa Gertz 1994.