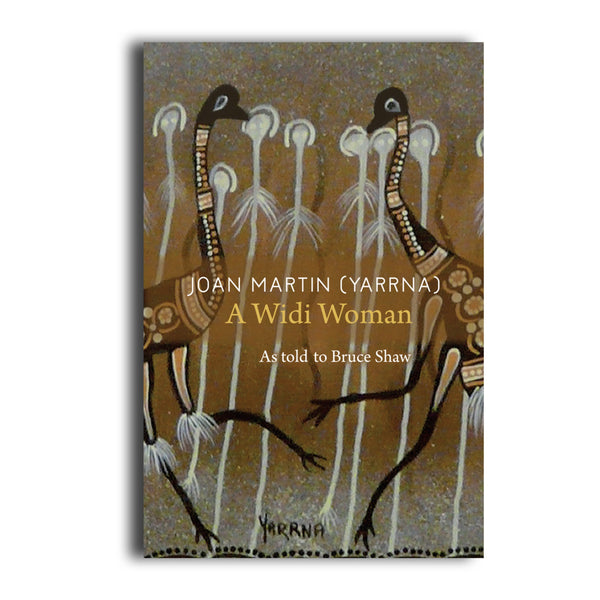 Joan Martin was born in the country town of Morawa, Western Australia, in 1941. She was a proud Widi woman whose traditional territory extended from Geraldton eastwards into the salt-lake area.
Joan led an exciting and adventurous life, from life in the bush to school in Perth, and back again. But it was a life with great challenges, including efforts to avoid Native Welfare, so as not to be shipped off to a mission, and her later very public battle with Homeswest for the right to live in peace in her own home. Her legacy includes her work on native title, and her art.
Joan's stories reveal interconnected themes: visiting family, teaching bush lore to her children, passing on Dreaming stories, celebrating culture through her art, along with conflicts with mining companies and white bureaucracies.
There is a poignant balance between her love of country with its expression through her art, and the victories and mischance of her life.
Production Details
Paperback
230mm x 155mm x 10mm
192pp
Released June 2011
ISBN 

9780855757779
Contents
Foreword
Illustrations
Preface
Maps
Genealogical Sketch
Chapter 1: Reading the genealogies
Chapter 2: In the bush
Chapter 3: Raising a family
Chapter 4: My country
Chapter 5: Caring for the land
Chapter 6: Dreaming stories
Chapter 7: Spirit life
Chapter 8: Yarrna
Chapter 9: 'Since ever the white man came'
Appendix: The Homeswest incident
Chronology
Glossary
Bibliography
Index
About The Author
University of Bruce Shaw Western Australia (PhD 1975). He compiled seven books of Aboriginal Australian life histories (a form of oral history). Now out of print, they include: When the dust come in between (1992), Bush time, station time (1991), Countrymen: The life histories of four Aboriginal men as told to Bruce Shaw. (1986), Banggaiyerri: The story of Jack Sullivan (1983), My country of the pelican dreaming (1981). He entered semi-retirement as part-time proofreader for a heritage office.
He is now retired and lives in Perth, Western Australia where he continues to write both nonfiction and, recently, fiction. In the 1990s he took up English studies at the Flinders University in South Australia (PhD 2004), having always wanted to extend his studies in English. Subsequently, he wrote The Animal Fable in Science Fiction and Fantasy (2010), published by McFarland & Co., and a second book, Jolly Good Detecting (2014) also published by McFarland.
About The Cover
Front cover: Detail from Emu Freize, Joan Martin