The Life of Nyamal Lawman Peter Coppin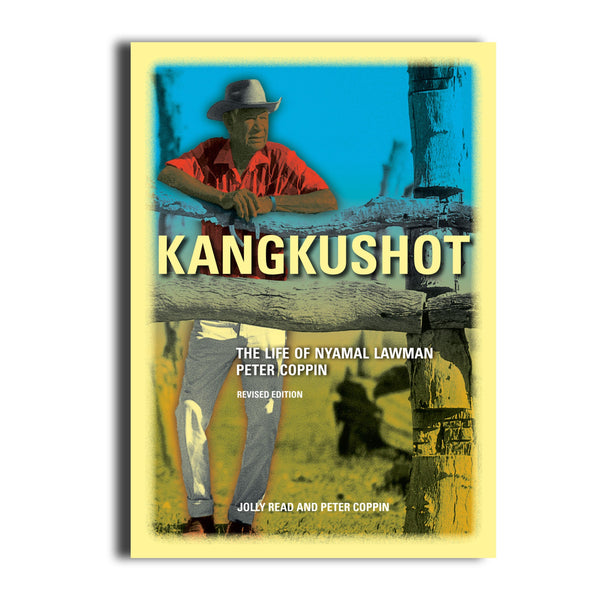 Kangkushot provides valuable insights into the rich and spiritual way Aboriginal people view their lives and land, and their place in it.
This is an updated edition of an epic and remarkable story of senior Nyamal lawman, Peter Coppin, who dreamed of a different life for his people. Despite great danger to themselves, he and others took part in the longest Aboriginal strike in Australia, the Pilbara Strike in 1946.
Born in Yarrie country in Western Australia's Pilbara, he describes a life of danger, drama and hardship; his people forced to work on pastoral stations for meagre rations, their lives subject to the whims of white pastoralists, government agents and legislators. Coppin went on to be awarded a British Empire medal, was joint NAIDOC elder of the year and won a police medal, as well as negotiating the first perpetual leases over Pilbara land and running a successful cattle station.
Production Details
Paperback
240mm x 170mm x 13mm
298pp
Released June 2014
ISBN 

9781922059635
Contents
Introduction
Authors' note
Acknowledgements
Map
Chapter 1: Mardamarda
Chapter 2: Karupur
Chapter 3: Kangkushot
Chapter 4: Murrkanya
Chapter 5: Yajilu
Chapter 6: Skull Springs
Chapter 7: A Pound a Week
Chapter 8: Clean Right Through
Chapter 9: In for a Fight Now
Chapter 10: Too Bloody Hard
Chapter 11: Keepin' Us Alive
Chapter 12: The Split
Chapter 13: Kurilkarra
Chapter 14: Yandeyarra
Chapter 15: Good for the People
Chapter 16: Jinparinya
Chapter 17: Our Country is Our Mother
Nyamal Orthography
Endnotes
About The Author
Jolly Read is a West Australian journalist and author. She has spent three decades working with several Western Australian Indigenous communities on stories and media involving native title, country and language. She worked as a political journalist and writer, and has written short stories and a children's book. 
Kangkushot: the Life of Nyamal Lawman, Peter Coppin, was shortlisted for the Western Australian Premier's Book Awards. Yandy, the play she wrote about the 1946 Pilbara Aboriginal pastoral strike won the 2004 Western Australian Premier's Book Award for best script.
She also won a Channel Seven Young Filmmaker's Award and a Churchill Fellowship to study Indigenous storytelling, native title and language rejuvenation in Canada and the United States.
About the cover
Cover photograph by Brendan Read