Landscapes of Indigenous Performance
Music, song and dance of the Torres Strait and Arnhem Land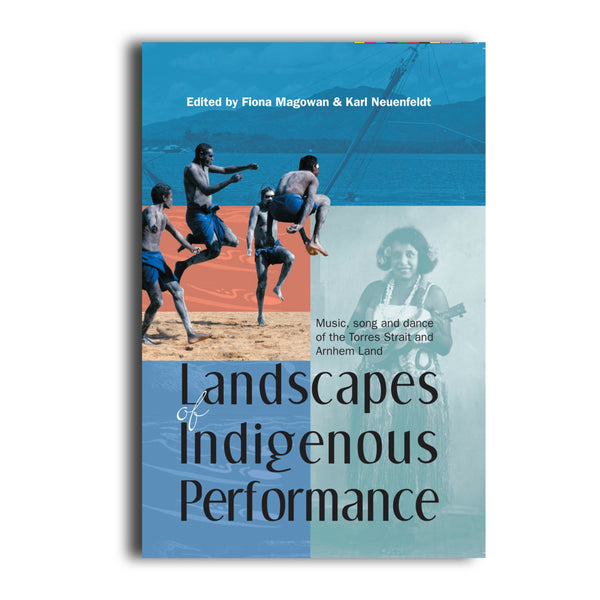 Landscapes of Indigenous Performance brings together a wide range of contemporary explorations of Indigenous music and dance in the Torres Strait and the tropical regions of the Northern Territory.
This collection shows how traditional music and dance have responded to colonial control in the past and more recently to other external forces beyond local control. It looks at musical pasts and presents as a continuum of creativity; at contemporary cultural performance as a contested domain; and at cross-cultural issues of recording and teaching music and dance as experienced by Indigenous leaders and educators, and non-Indigenous researchers and scholars.
Indigenous and non-Indigenous contributors demonstrate how local music and dance genres have been subject to missionary, institutional, popular and global influences. They offer an understanding of the cultural background and history of Torres Strait music; they discuss how contemporary Christian music and dance in Arnhem Land incorporate traditional ritual; they unpack the complex form and structure of an Australian Aboriginal song series; and they examine the transformation of a nineteenth-century American popular song into a 'traditional' anthem of the Torres Strait. The book also examines the interface between Aboriginal ritual, movement and the environment as portrayed on film; and explores the issues raised by the presence of Aboriginal performers in the white university classroom.
Landscapes of Indigenous Performance is of critical importance for those involved in the fields of music, dance and performance in general.
Production Details
Paperback
235mm x 152mm x 10mm
208pp

Released 2005
ISBN 

9780855754938
Contents
Contributors
Introduction Fiona Magowan and Karl Neuenfeldt
Chapter 1. From 'Navajo' to 'Taba Naba'- Unravelling the travels and metamorphosis of a popular Torres Strait Islander song
Chapter 2. Home Among the Gum Trees- An ethnography of Yolngu musical performance in mainstream contexts
Chapter 3. Music of the Torres Strait
Chapter 4. Mabo, Music and Culture
Chapter 5. Dancing Into Film- Exploring Yolngu motion, ritual and cosmology in the Yirrkala Film Project
Chapter 6. A Rally at Ramingining- The 'uniting' force of music and dance in a Yolngu Christian context
Chapter 7. Grand Concerts, Anzac Days and Evening Entertainments- Glimpses of musical culture on Thursday Island, Queensland, 1900–1945
Chapter 8. Making the Journey In- Opening up spaces for performing, teaching and learning Aboriginal performance traditions
Chapter 9. Musical Times: The interplay between metrical time and real time in a Central Arnhem Land clan song series
Index
About The Author
Fiona Magowan's research covers three interconnected areas: music, sound and movement; art, emotion and the senses; and religion, identity and transformation. As PI of 'Sounding Conflict: From Resistance to Reconciliation' (2017-2021), she is leading a team of Queen's staff and 10 partner organisations researching across the Middle East, Brazil and Northern Ireland.
Karl Neuenfeldt is a music producer and performer; Seaman Dan biographer; Associate Professor in the School of Humanities & Communication at the Central Queensland University.
About The Cover
Front cover illustrations: Anbarra people of the Blythe River, North Central Arnhem Land performing a rom ceremony at AIATSIS. (Courtesy of Audiovisual Archives, AIATSIS, 2002). Dulla Solomon (nee Jia) c. 1930's. (Courtesy of Clare and Dan Mcgrath Family, Seriba and Bill Shibasaki Family and Gladys and Mial Bingarape Family). The Torres Strait pearling lugger 'Floria' being refloated in Cairns Trinity Inlet for refitting. (Photograph by Sylvia Neie).