A Life in the Torres Strait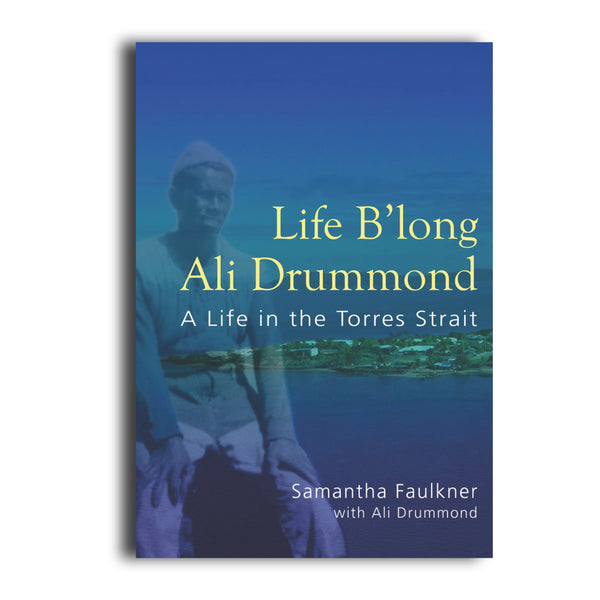 Family is one of the most important things in Sam Faulkner's life. Ali Drummond is Sam Faulkner's grandfather, and this is his story.
Ali Drummond has had an extraordinary life, by any standards. Orphaned when young, Ali took to a life at sea aged fourteen. Originally taken on as an apprentice, Ali applied himself to learning the skills he needed to survive and prosper in a sometimes dangerous life seeking pearl shells, trochus and b'che de mer. Alert to the Japanese divers knowledge, Ali learnt well from them and went on to become an expert diver and skipper himself.
After years on the mainland, cutting cane, roadworking and supporting his growing family, Ali returned to his beloved Torres Strait. He has been a strong supporter of his community, has enjoyed playing lawn bowls competitively and has provided advice about the maritime environment he knows so well - knowledge now keenly sought by scientists and others. Now 90, Ali is one of a handful of elders able to share these stories first-hand.
Two themes emerge strongly: the importance of Ali's wife Carmen and their family, and the desire to be out on the water, fishing. Sam Faulkner has rendered Ali Drummond's life with affection, skilfully weaving together Ali's stories with colourful reminiscences from his family.
Sam Faulkner's passion is to share the stories of Aboriginal and Torres Strait Islander Australia with other Australians and the international community.
Production Details
Paperback
220mm x 150mm x 7mm
140pp
Released July 2007
ISBN 

9780855755560
Contents
Acknowledgments
Prologue
Map
Chapter 1: Introduction, Donisha Duff
Chapter 2: Young Days
Chapter 3: Life on the Water
Chapter 4: Wartime (1940–42)
Chapter 5: Life on the Land
Chapter 6: Family
Chapter 7: And Now
About The Author
Samantha Faulkner is a Torres Strait Islander and Aboriginal woman from the Wuthuthi and Yadhaigana peoples, Cape York Peninsula and Badu and Moa Islands, Torres Strait.
She has poetry and prose published in By Close of Business, Etchings Indigenous: Treaty, and Ora Nui: A Collection of Maori and Aboriginal Literature and Narrative Witness: Indigenous Peoples, Australia - United States. Samantha has worked in the Australian Public Service for over 20 years in a variety of agencies and non-government organisations.
She has represented women and Aboriginal and Torres Strait Islander interests on local, state and national boards and is currently a member of Us Mob Writing Group, ACT Place Names Committee and ACT Torres Strait Islanders Corporation (Director).
Us Mob Writing Group are a group of Canberra based emerging and established writers. They have published locally, nationally and internationally. In 2013, By Close of Business, a poetry anthology was self-published. Members have presented at 2015 and 2016 Noted Festival, ACT NAIDOC Week, ACT Libraries events and the 2014 AIATSIS Conference. In 2016, a Chosen grant from the Australia Council for the Arts allows funding for two master classes and two writing retreats, along with several writing days which will produce a manuscript of poetry and short stories.
About The Cover
Cover images: Ali during his pearling years; Aerial shot of Thursday Island, photo by George Serras, courtesy Torress Strait Regional Authority & National Museum of Australia. Shll illustration by James Boyd.