The experiences of registered native title corporations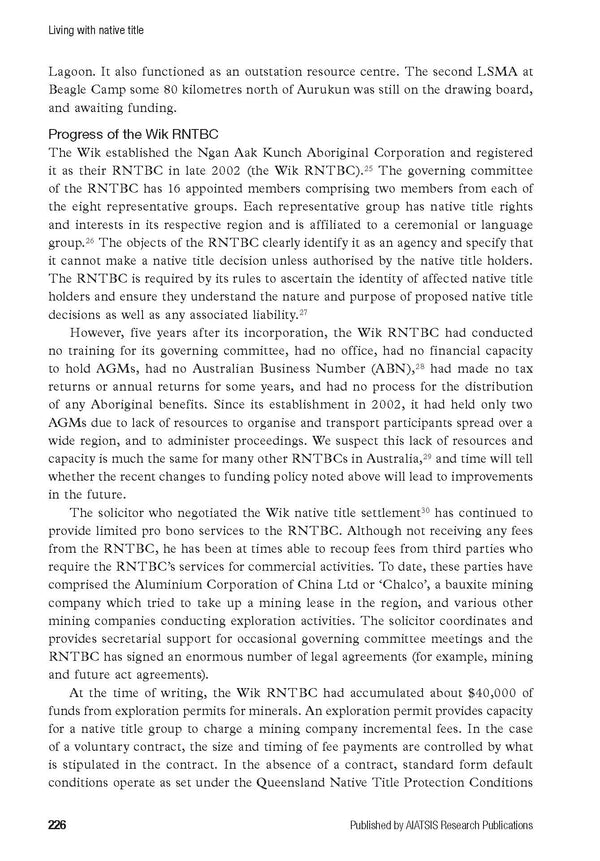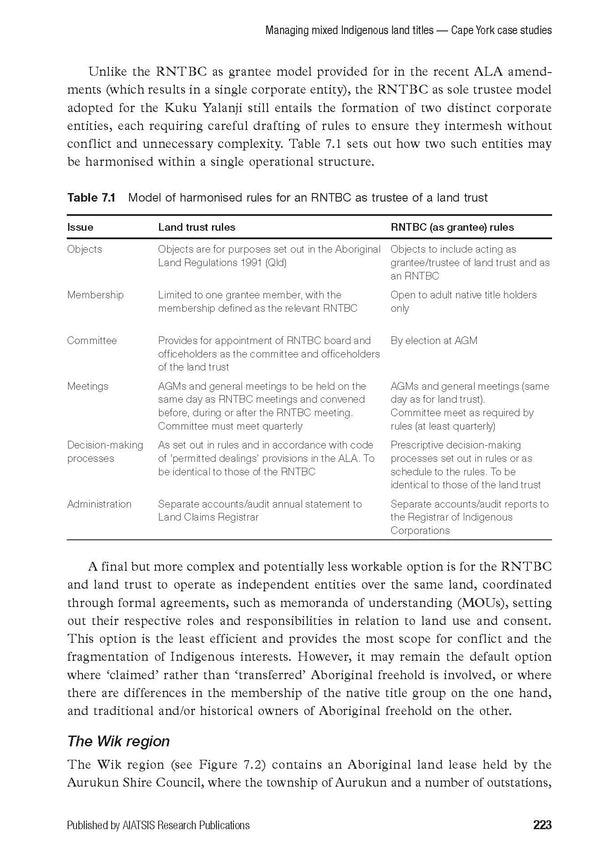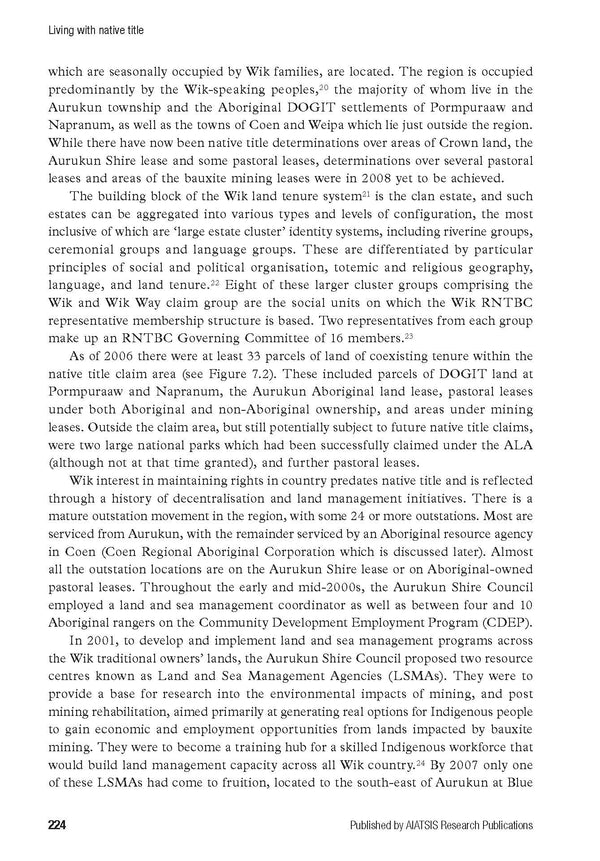 Much of the attention paid to native title in Australia has focused on court proceedings and other legalities, but what does it actually mean to live with native title? This book presents the experiences of native title holders and the corporations they have established to look after their native title interests.
The influence of the renowned High Court Mabo case is such that there are already more than 100 Registered Native Title Bodies Corporate (RNTBCs) across Australia with responsibilities for about 18 per cent of the continent. RNTBCs operate in a profoundly intercultural context where 'western' and Indigenous laws are constantly interpreted and negotiated as part of a new suite of landholding and land management practices for contemporary Australia.
Through seven case studies from the Torres Strait, Far North Queensland, the Kimberley and Central Australia, Living with native title documents the experiences of RNTBCs, including those that are parties to large mining agreements. Each case study is accompanied by a short update written immediately prior to publication.
Living with native title is a product of the AIATSIS research project Prescribed Bodies Corporate: Research Action Partnerships.
Production Details
Paperback
250mm x 175mm x 20mm
320pp
Released January 2013
ISBN

9781922102201
Contents
List of figures
List of tables
Abbreviations and acronyms
Notes on contributors
Acknowledgments
Preface
Chapter 1: Navigating complexity: living with native title
Chapter 2: An overview of the Registered Native Title Bodies Corporate regime
Chapter 3: Native Title Bodies Corporate in the Torres Strait- finding a place in the governance of a region
Update- Torres Strait Native Title Bodies Corporate 2013
Chapter 4: The Djabugay native title story- getting back in town
Update- Djabugay Native Title Corporation 2013
Chapter 5: Karajarri- native title and governance in the West Kimberley
Update- Karajarri Traditional Lands Association 2013
Chapter 6: The Ord River Stage 2 Agreement and Miriuwung Gajerrong native title corporations
Update- Miriuwung Gajerrong Corporation and Registered Native Title Bodies Corporate 2013
Chapter 7: Managing mixed Indigenous land titles — Cape York case studies
Update- Cape York Registered Native Title Bodies Corporate 2013
Chapter 8: Working with Indigenous and western corporate structures — the Central Arrernte case
Update- Lhere Artepe Registered Native Title Body Corporate 2013
Chapter 9: Registered Native Title Bodies Corporate and mining agreements- capacities and structures
Update- Registered Native Title Bodies Corporate and mining agreements 2013
RNTBC selected reading list
About The Author
Toni Bauman is an Honorary Staff member at CAEPR and a Visiting Research Fellow at AIATSIS. She is also working on a case study as part of CAEPR and AIGI's Governance and Development project.

She is an anthropologist, coach, mediator, facilitator and trainer, a director of Dodson, Bauman & Associates and was for a number of years the AIATSIS Senior Research Fellow in governance, public policy and cultural competence. She has published widely, made presentations to a range of national and international audiences, facilitated many workshops and forums, and been involved in developing policy for Indigenous organisations and governments. Toni has over thirty years of experience in Indigenous land and native title claims, governance, agreement-making, decision-making and dispute management processes including free, prior and informed consent, joint management of protected areas, government policy, cultural competence, art and craft, program evaluation, partnerships, and feasibility studies. She has worked as a staff member and consultant for government departments, statutory authorities and Indigenous organisations.
About The Cover
Cover images: Barron Gorge National Park in Djabugay country (Photo: Hanz Spier); low tide, West Kimberley coast near Bidyadanga, Karajarri country (Photo: Jessica Weir); water tower, Bidyadanga, Karajarri country (Photo: Jessica Weir); Mer Island, Torress Strait (Photo: Lisa Strelein); Poruma Island, Torres Strait (Photo: Lisa Strelein); sandy tracks, Bidyadanga, Karajarri country (Photo: Jessica Weir)