Ngarinyman to English Dictionary
to English Dictionary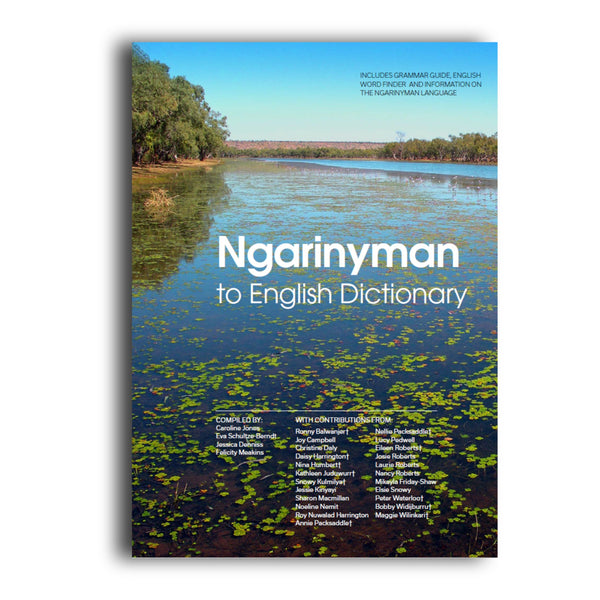 Ngarinyman is an Aboriginal language of the northern Victoria River District in the Northern Territory (Australia). Many Ngarinyman people live in Yarralin, Bulla Camp, Amanbidji (Kildurk) and around Timber Creek.
The Ngarinyman to English Dictionary contains Ngarinyman words with English translations, illustrations and detailed encyclopaedic information about plants, animals and cultural practices. Also included is a guide to Ngarinyman grammar and an English index.
This volume is ideal for both beginners and advanced speakers of Ngarinyman, for translators and interpreters, and for anyone interested in learning more about Ngarinyman language and culture.
The Ngarinyman to English Dictionary is a part of the AIATSIS Indigenous Language Preservation: Dictionaries Project. This project is a response to the alarming rates of language loss in Australia, and aims to support the publication of Indigenous languages dictionaries.
A dictionary contributes to language maintenance, supporting written texts of all genres including important literacy development resources. Dictionaries are avaluable addition to the tool kit of language learners, educators, interpreters and translators. The Dictionaries Project will produce a number of much-needed, high-quality dictionaries of Indigenous languages, which will contribute to community efforts to revitalise and strengthen their languages. The Dictionaries Project is proudly funded by the Department of the Prime Minister and Cabinet.
Production Details
Paperback
248mm x 180mm x 25mm
292pp
Released July 2019
ISBN 

9781925302806


Contents
Preface
In memory of
Acknowledgements
Chapter 1: Language and history
Chapter 2: Skin names and kinship
Chapter 3: Alphabet
Chapter 4: Grammar guide
Chapter 5: Explanation of dictionary entries
Chapter 6: Ngarinyman to English dictionary
Chapter 7: English to Ngarinyman word finder
Chapter 8: English to Ngarinyman scientific name finder
About The Author
This book is the result of a 25-year collaboration between many Ngarinyman community members, including senior community members through to younger generations, such as Nina Humbert, Eileen Roberts, Kathleen Juduwurr, Joy Campbell, Noeline Nemit and Sharon Macmillan, a team of linguists, plus an ethnobotanist and anthropologist.
This long-term collaboration has been made possible by Walangeri Aboriginal Corporation, Ngaliwurru-wuli Association, Northern Land Council, Australian Research Council,and four universities (Western Sydney University, University of Queensland, University of Manchester, University of Toronto).
About The Cover
Photos and map used with permission from Caroline Jones, Frances Kofod, Darrell Lewis, Felicity Meakins and Eva Schultze-Berndt. Front cover photo is of the billabong at Yarralin (Penny Smith, 2017).