the last thoughts of Kakadu Elder Bill Neidjie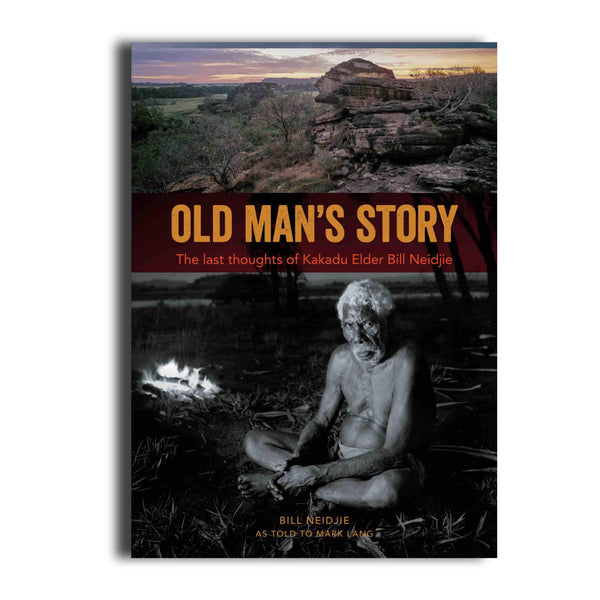 Right then,' he said with a sigh, and then turned to me with a grin.'I tell you story, eh!'
Then he said something which really floored me: 'I been waiting for you. You been waiting for me.' And so began Bill Neidjie's relationship with English photographer, Mark Lang.
Known as 'Old Man' in this book, but often called 'Big Bill Neidjie' throughout his life because of his imposing height and strength, Bill Neidjie wanted to record aspects of his life for a younger generation of Gagadju, to help them look after their country and remember its stories - and for balanda, non-Aboriginal people.

Told in the old man's words, this beautifully nuanced, impressionistic account allows Neidjie to gently emphasise the issues of importance to him. Old man's story has a very personal inflection with Neidjie's words complemented by Lang's beautiful landscape photos. Structured in the cycle of the seasons, Old man's story provides readers with insights into the annual transformation of landscape that are so integral to Neidjie's life story.
Old Man's story contains many tales of growing up on country. Neidjie always emphasised his passion for the land and the significance of traditional practices, hoping that culture would flourish and be passed on. The book is a powerful contribution to the history of northern Australia told by an iconic figure. Bill Neidjie is perhaps best known for being central to the opening up of his land which led to the creation of the world-heritage listed
Kakadu National Park and for recommending it be leased to the Commonwealth Government for it to be managed as a resource for all Australians.
Old Man's story includes tales about many aspects of Aboriginal life and culture. Recognising that he was the last remaining speaker of Gaagudju language, Neidjie broke with tradition and committed his knowledge to print. This is his third book.
His key message in this book -one for all Australians-  not just Aboriginal people, is:
You look after country... Country he look after you.
Production Details
Paperback
230mm x 170mm x 13mm
222pp
Released July 2015
ISBN 

9781922059949


Contents
THE FIRST STORY
THE DRY SEASON
THE WET SEASON
BACK TO THE DRY
About the Author
Bill Neidjie's previous books include: Gagudju Man and Story about feeling.
Renowned landscape photographer Lang includes parts of his own personal story about working for three years with Bill Neidjie but never lets it get in the way of the old man's. www.marklangscapes.com/
About The Cover
Front cover: Bill Neidjie. Back cover: Heart- shaped rock at Ubirr. Photographs by Mark Lang.
Very insightful
Bought for a colleague who is moving to the area
Very insightful
Bought for a colleague who is moving to the area