A manual for reconstituting materials in Australian Indigenous Languages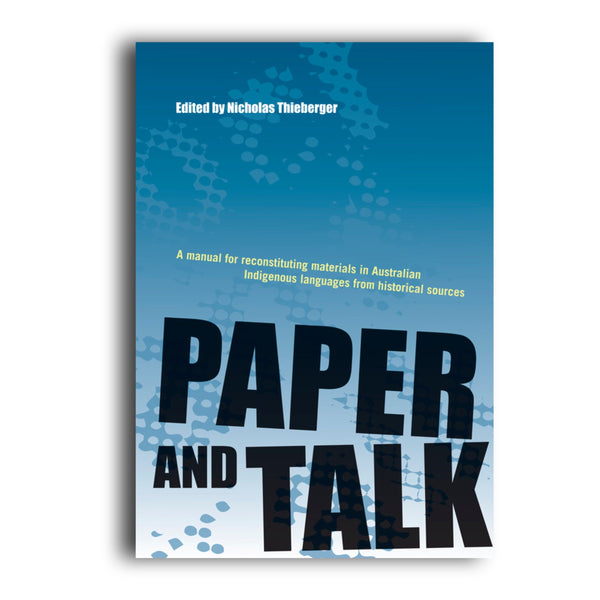 This is a concise guide and an excellent introduction to the complicated issues of language reconstruction. Finding out about languages that are no longer spoken, or those that are still spoken by only a few people, can be a long and difficult process.
Taking texts and wordlists from historical sources and making them useful in current language programs and literature presents a variety of challenges. While some early recording of Australian indigenous languages was quite good, much of it was done by people who were not expecting to find complicated grammars or a rich understanding of the natural environment. In some areas of research there may be material recorded by trained linguists available to help decipher the relationship between written forms and the sound they are meant to represent.
Each contributor to Paper and Talk works through some of the complex issues vital to language workers in an accessible, easy-to-read style. Exercises throughout the book provide immediate ways for readers to put some of the ideas into practice, and to experience the frustrations of this kind of language work.
Production Details
Paperback
245mm x 175mm x 12mm
208pp
Released January 2005
ISBN

9780855752736
Contents
Welcome
Introduction
Chapter 1: Working on a dictionary for Murri languages
Chapter 2: What is your language?
Chapter 3: What is written on your language? How do you obtain access to it?
Chapter 4: Reading old sources
Chapter 5: What word is that?
Chapter 6: Interpreting old spelling
Chapter 7: How to decide on a spelling system
Chapter 8: Making sense of the words in old wordlists
Chapter 9: What to do with language material
Chapter 10: Using computers
List of participants
List of dictionaries and wordlists reworked from historical sources
Resources- Including contacts for language centres
References

About The Author
Nick Thieberger is a linguist who has worked with Australian languages and wrote a grammar of Nafsan, a language from Efate, Vanuatu. He helped establish the Pacific and Regional Archive for Digital Sources in Endangered Cultures (http://paradisec.org.au), a digital archive of mainly audio language and music records, and is now its Director.
He built the Aboriginal Studies Electronic Data Archive at AIATSIS in the early 1990s. He is developing methods for creation of reusable data sets from fieldwork on previously unrecorded languages. He is a Chief Investigator in the Australian Research Council Centre of Excellence for the Dynamics of Language.