Warlpiri life through the prism of drawing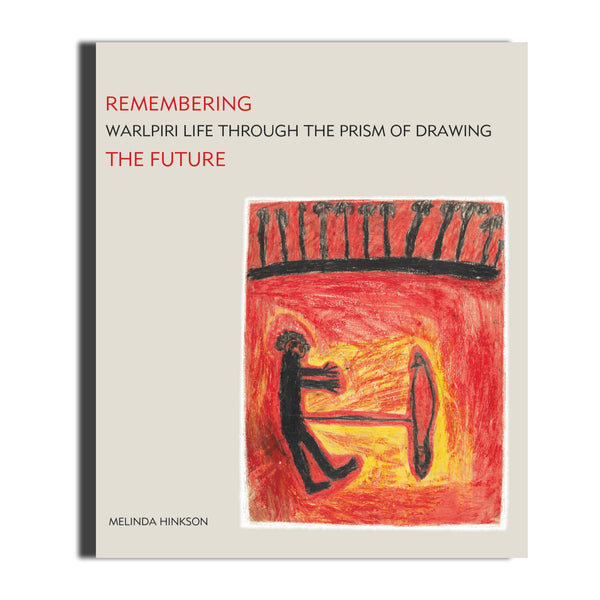 Two decades before the art movement at Papunya, in 1953, anthropologist Mervyn Meggitt invited Warlpiri men at Hooker Creek to draw with crayons and paper. Six decades later the Warlpiri men's descendants have been introduced to the drawings.

In Remembering the Future, Hinkson builds a compelling account of the colonial and contemporary circumstances of Warlpiri lives, and the crucial role of images in relationships between Warlpiri people and the dominant society.
Hinkson breaks new ground in writing about Central Australian Aboriginal art, Australian anthropology and the interdisciplinary field of visual studies.
"It marks a generational change and a new approach to scholarship."

- Dr Luke Taylor, Adjunct Professor, Australian National University.

 

"With eloquence and insight she reveals the frameworks of interpretation that have contained the drawings, exposing the limits of our understanding, and breaking open these frameworks to the activities and lives of real people, past and present."

- Professor Fred Myers, Silver Professor of Anthropology, New York University.

 

"This landmark book breaks new ground in exploring Aboriginal visual culture and will serve as an important touchstone in years to come."

- Professor Jane Lydon, Wesfarmers Chair of Australian History, University of Western Australia.

 
Production Details
Paperback
275mm x 245mm x 13mm
224pp
Released August 2014
ISBN

9781922059673
Contents
Dedication
Preface
Note on names and orthography
Introduction- Clearing the ground
Interlude I- Regarding Nangala
Chapter 1: Locating the Warlpiri drawings
Interlude II- Olive Pink's picnic by Olive Pink
Chapter 2: Seeing the Warlpiri
Chapter 3: The superintendent's window
Interlude III- The road to Hooker Creek by Elizabeth Nungarrayi Ross and Jeannie Nungarrayi Herbert
Chapter 4: Back to Yarripirlangu
Interlude IV- Remembering Mervyn Meggitt (1924–2004)
Chapter 5: Trees at Hooker Creek
Chapter 6: Remembering the future
Warlpiri drawings collected by Mervyn Meggitt, Hooker Creek, 1953–54
Notes
References
General index
Artists' index
About The Author
Melinda Hinkson is an associate professor of anthropology at the Alfred Deakin Institute for Citizenship and Globalisation, Deakin University. She also directs the independent Institute of Postcolonial Studies, Melbourne. Much of Melinda's work is informed by longstanding research relationships with Warlpiri people. She has published widely on Aboriginal visual culture and the politics of representation, the life work of WEH Stanner, the contested cultural politics of the Northern Territory Intervention, and processes of displacement and practices of place-making. Among Melinda's publications are See How We Roll: Enduring Exile Between Desert and Urban Australia (forthcoming, 2021), Remembering the Future: Warlpiri Life Through the Prism of Drawing (Aboriginal Studies Press, 2014), Coercive Reconciliation: Stabilise, Normalise, Exit Aboriginal Australia (co-edited with Jon Altman, 2007) and Aboriginal Sydney: A Guide to Important Places of the Past and Present (with photographs by Alana Harris, 2001).
About The Cover
Front cover: Larry Jungarrayi, The spearing of a man at Yuendumu native settlement, Hooker Creek 1953-4. (Drawing #48, Meggitt Collection, AIATSIS).