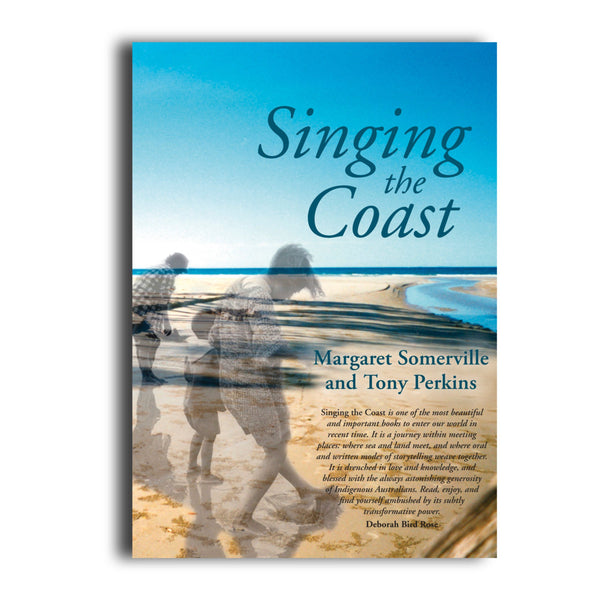 Singing the coast offers readers a rare opportunity to visit the heart of Gumbaynggirr culture and trace the shaping of place and identity in coastal Australia. The story began under the coral trees at the Old Camp where Tony Perkins first sat with his grandfather and listened to his stories. His grandfather was an initiated man who brought the spirit creatures along to teach the knowledge that was once passed on in initiation.
By recording their stories Gumbaynggirr people invite us to share their intimate connection with their land. The stories are brought into a contemporary present at Muurrbay through deep mapping of the songlines that cross Gumbaynggirr country to reveal how people, place and identity are connected.
Tony Perkins and Margaret Somerville take up the challenge of speaking from the place between Aboriginal and settler stories to share the experience of this rich collaboration.
Production Details
Paperback
229mm x 150mm x 15mm
224pp
Released May 2010
ISBN 

9780855757113
Contents
Illustrations
Acknowledgments
Notes on language
Map
Prologue: In the beginning
Chapter 1: Singing differently
Chapter 2: Crying-songs to remember
Chapter 3: Making home in No Mans Land
Chapter 4: Eating place
Chapter 5: Spirits in places
Chapter 6: A language of landscape
Chapter 7: Connecting the dots
Epilogue: The place of creation
Notes
References and further reading
Index
About The Author
Margaret Somerville writes from Indigenous stories of the natural world and is passionately interested in landscape and questions of identity and belonging. This is her fifth book about place attachments, three of these written in collaboration with Aboriginal people and communities. She is a Professor of Education at Monash University.

Tony Perkins is a cultural knowledge holder and member of the Garby Elders of Corindi Beach in New South Wales. He revitalised Yarrawarra Aboriginal Corporation where he was Manager until he became CEO of an Aboriginal employment agency in Coffs Harbour. He is motivated by the desire to reconnect young Aboriginal people to their culture in order to build a proud and strong Aboriginal future.
About The Cover
Cover: Collecting pipis, Corindi Beach, Photography by Margaret Somerville.