The inside story of the Katherine West Health Board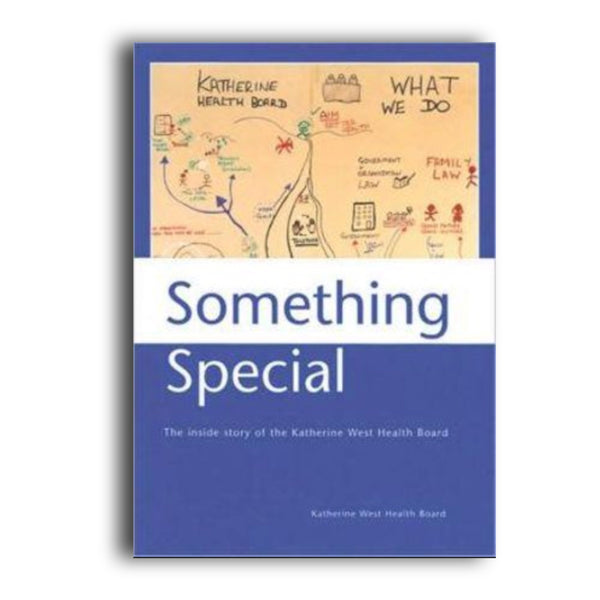 Something Special tells the story of a unique and successful 'experiment' in which the delivery of health services in the Katherine region in the Northern Territory were 'handed over' to 'a group of grassroots-oriented Aboriginal people'.
Production Details
Paperback
245mm x 180mm x 15mm
132pp
Released January 2003
ISBN

9780855754457
Contents
Preface
Acronyms
Introduction
Chapter 1: Resistance- Part 1
Chapter 2: Resistance- Part 2
Chapter 3: Ideas for a Health Board
Chapter 4: Early days for the Board
Chapter 5: Into the Live Phase
Chapter 6: Taking off
Chapter 7: Beyond Coordinate Care
About The Author
The original impetus for this booklet came from several individuals who had seen that what went on during the Katherine West Coordinated Care Trial was 'something special'.
The Health Board members had been interested in making sure other Aboriginal people and Governments heard their story. Governments saw the need for a resource which could help other newly-forming Aboriginal health boards.
The compiler, Harvey Creswell, had been a Policy Officer at the Katherine West Health Board, and put the document together while a fulltime postgraduate student, flying back and forth between Sydney and Katherine to tape and consult. As it turned out, the ideal methodology, involving scientifically designed survey techniques and elaborate manipulation of data, was not possible. The reality is that it was a case of catching people 'opportunistically', taking a tape recorder on long trips from one community to another, only to find the relevant people had moved on to another community.
So, in a haphazard fashion, most of those involved in the early days of the Health Board were tracked down, and gave their time generously.