Race, power and the Australian Constitution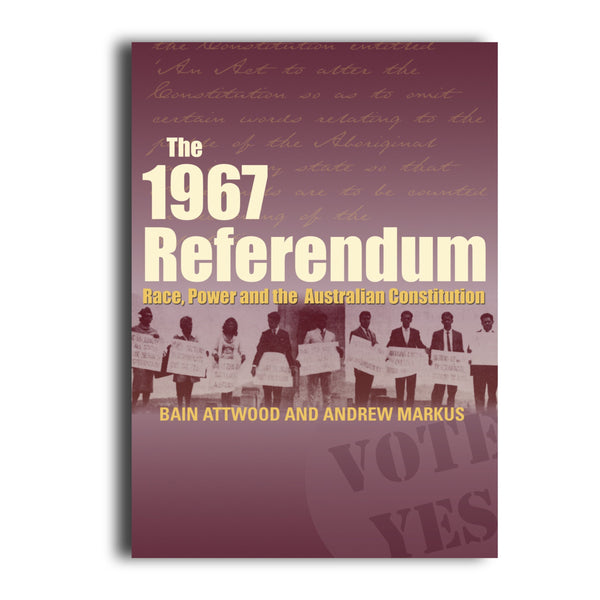 On 27 May 1967 a remarkable event occurred. An overwhelming majority of electors voted in a national referendum to amend clauses of the Australian Constitution concerning Aboriginal people. Today it is commonly regarded as a turning point in the history of relations between Indigenous and white Australians. This was the historic moment when citizenship rights were granted — including the vote — and the Commonwealth at long last assumed responsibility for Aboriginal affairs. But the referendum did none of these things.

The 1967 Referendum explores the legal and political significance of the referendum and the long struggle by black and white Australians for constitutional change. It traces the emergence of a series of powerful narratives about the Australian Constitution and the status of Aboriginal peoples, revealing how and why the referendum campaign acquired so much significance, and has since become the subject of highly charged myth in contemporary Australia.

Attwood and Markus's text is complemented by personal recollections of the campaign by a range of Indigenous people, historical documents and photographs.
Production Details
Paperback
240mm x 170mm x 15mm
200pp
Released May 2017
ISBN 

9780855755553
Contents
Acknowledgments
Abbreviations
Preface
Chapter 1: The Constitution and the Power of Race
Chapter 2: The Commonwealth and Aboriginal Affairs
Chapter 3: The Federal Council for Aboriginal Advancement and Constitutional Change
Chapter 4: The 1962–3 Petition Campaign
Chapter 5: The Coalition Government and the Demand for a Referendum
Chapter 6: The Campaign for the 'Yes' Vote
Chapter 7: The Poll and its Consequences
Chapter 8: Remembering and Forgetting the Referendum
Chapter 9: Reconciliation and Constitutional Change
Chapter 10: Race, Rights and the Constitution
Documents
Part I Written Sources
Part II Aboriginal Oral Sources
Part III Contemporary Aboriginal Perspectives
Notes
Index
About The Author
Bain Attwood is an Associate Professor of History in the School of Historical Studies at Monash University and Adjunct Professor at the Australian National University's Centre for Cross-Cultural Research.

Andrew Markus is Professor of Jewish Civilisation and the Academic Director of the Australian Centre for the Study of Jewish Civilisation. Both have written extensively on Aboriginal history and Australian race relations.
About The Cover
 Cover illustration: Aborigines from Victoria and NSW in Canberra, November 1965, campaigning for constitutional change.  Australian, Newspix/News Ltd.