The Difference Identity Makes
Indigenous Cultural Capital in Australian Cultural Fields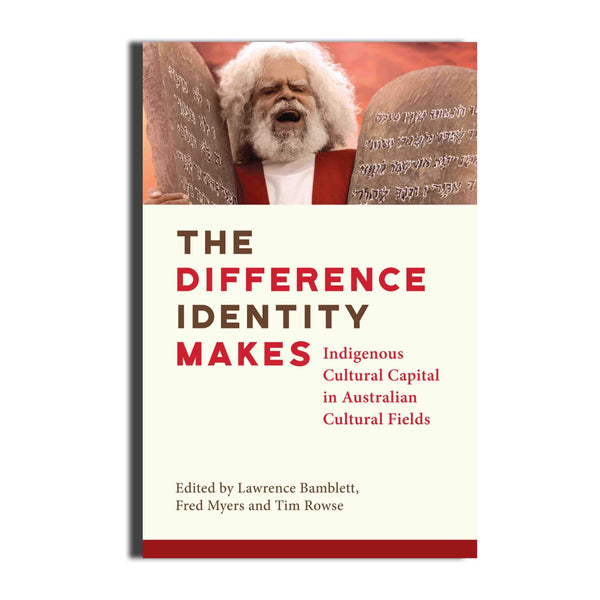 Through the struggles of Indigenous Australians for recognition and self-determination it has become common sense to understand Australia as made up of both Indigenous and non-Indigenous people and things. But in what ways is the Indigenous/non-Indigenous distinction being used and understood?
In The difference identity makes thirteen Indigenous and non-Indigenous academics examine how this distinction structures the work of cultural production and how Indigenous producers and their works are recognised and valued.
The editors introduce this innovative collection of essays with a pathfinding argument that 'Indigenous cultural capital' now challenges all Australians to re-position themselves within a revised scale of values. Each chapter looks at one of five fields of Australian cultural production: sport, television, heritage, visual arts and music, revealing that in each the Indigenous/non-Indigenous distinction has effects that are specific.
Production Details
Paperback
215mm x 140mm x 18mm
308pp
Released May 2019
ISBN

9781925302837
Contents
Acknowledgements
Notes on Contributors
Figures and Tables
Introduction – The Editors
Chapter 1: 'When we win, our culture wins'- Community ascription and autonomy at the Deadlys
Chapter 2: Recalibrating the visual field- Indigenous curators and contemporary art
Chapter 3: Our stories our way
Chapter 4: Identity, language and collaboration in Indigenous music
Chapter 5: Considering issues of identity and belonging in a collaborative music research project on Torres Strait Islander women performers
Chapter 6: Rags to riches- Aboriginal identity as deficit
Chapter 7: Assimilation, self-determination and normalisation- Aboriginal worlds, rugby league and the state
Chapter 8: Marking differences- Indigenous cultural tastes and practices
Chapter 9: Seeking the Indigenous dimensions of the Australian classical music field
Chapter 10: Indigeneity as scandal- Mediation and governance of sport
Chapter 11: Indigeneity and sport in Reconciliation Action Plans
Chapter 12: Invasion, resistance and the binary structure of Australia's military heritage
Index
About The Author
Fred Myers is the Silver Professor of Anthropology at New York University, and he lives in New York.  Myers has been involved in research with, living with, and writing about, Western Desert Aboriginal people since 1973. His work over the last fifteen years has been focused principally on studying and explaining the significance of art and material culture as a point of articulation – aesthetic, political, developmental -- between the values and expectations of Indigenous people and institutions of the outside world. His books include Pintupi Country, Pintupi Self: Sentiment, Place and Politics among Western Desert Aborigines (1986) and a book on the acrylic painting movement, Painting Culture: The Making of an Aboriginal High Art (2002).  Relevant edited volumes include The Traffic in Culture: Refiguring Anthropology and Art (co-edited with George Marcus, 1995), and The Empire of Things (2001). Experiments in Self-Determination:  Histories of the Outstation Movement in Australia (co-edited with Nicolas Peterson, 2016) and a film, Remembering Yayayi were the products of an earlier Australian Research Council Linkage grant.  Most recently, he co-edited with Lawrence Bamblett and Tim Rowse, The Difference Identity Makes (2019) and with Tony Bennett, Deborah Stevenson, and Tamara Winikoff, Australian Art Field (2020).
About The Cover
Cover image: Jack Charles plays Moses in Black Comedy Series one.