The Social Archaeology of Australian Indigenous Societies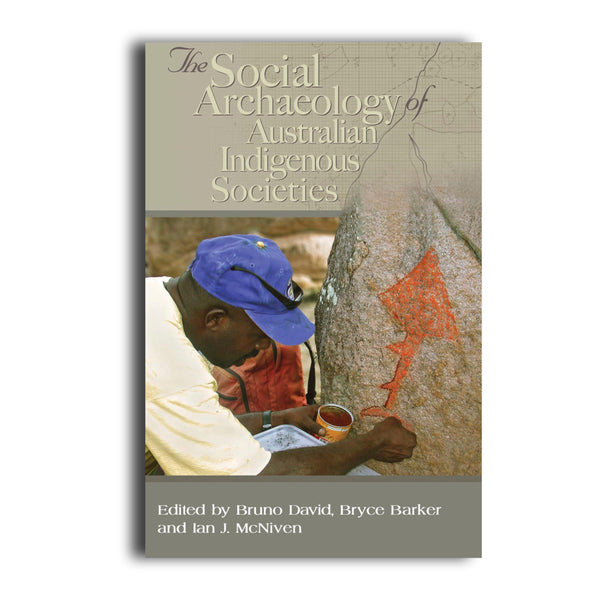 Building on the foundational work of Harry Lourandos, the book critically examines and challenges traditional approaches which have presented Indigenous Australian pasts as static and tethered to ecological rationalism.
The book reveals the ancient past of Aboriginal Australians to be one of long-term changes in social relationships and traditions, as well as the active management and manipulation of the environment.
It encourages a deeper appreciation of the ways Aboriginal peoples have engaged with, and constructed their worlds. It solicits a deeper understanding of the contemporary political and social context of research and the insidious impacts of colonialist philosophies. In short, it concerns people: both past and present.
Ultimately, The social archaeology of Australian Indigenous societies looks beyond the stereotype of Aboriginal peoples as 'hunter-gatherers' and charts new and challenging agendas for Australian Aboriginal archaeology.
Production Details
Paperback
235mm x 155mm x 28mm
384pp
Released June 2006
ISBN

9780855754990
Contents
Figures and tables
Acknowledgement
Contributors
Part 1 The emergence of social archaeology in Australia
Chapter 1: The social archaeology of Indigenous Australia
Chapter 2. An interview with Harry Lourandos
Chapter 3. Harry Lourandos' life and work- an Australian archaeological odyssey
Part 2 Tyranny of text
Chapter 4. Unpacking Australian prehistory
Chapter 5. Hierarchies of knowledge and the tyranny of text- archaeology, ethnohistory and oral traditions in Australian archaeological interpretation
Chapter 6. Colonial diffusionism and the archaeology of external influences on Aboriginal culture
Chapter 7. Harry Lourandos, the 'Great Intensification Debate', and the representation of Indigenous pasts
Part 3 Anthropological approaches
Chapter 8. Footprints of the ancestors: the convergence of anthropological and archaeological perspectives in contemporary Aboriginal heritage studies
Chapter 9. Earth, wind, fire, water: the social and spiritual construction of water in Aboriginal societies
Chapter 10. The social, economic and historical construction of cycad palms among the Yanyuwa
Chapter 11. Landscapes with shadows of once living people- the Kundawira challenge
Chapter 12. Towards an experiential archaeology of place- from location to situation through the body
Part 4 Late-Holocene change
Chapter 13. Hunter-gatherer social complexity at Roonka, South Australia
Chapter 14. Social dynamism in the archaeology of the Western Desert
Chapter 15. Environmental change and variability in south-western Victoria- changing constraints and opportunities for occupation and
land use
Chapter 16. Landscapes in western Torres Strait history
Chapter 17. North of the Cape and south of the Fly- discovering the archaeology of social complexity in Torres Strait
Part 5 Extending the boundaries
Chapter 18. Destabilising how we view the past: Harry Lourandos and the archaeology of Bodmin Moor, south-west England
Publications by Harry Lourandos
References
Index
About The Author
All three editors are respected and widely published. They have drawn together Indigenous and non-Indigenous scholars who, between them, represent a new generation of provocative and exciting thinkers.
Dr Bruno David is QEII Fellow at Monash University (Australia). He was awarded the inaugural UK Antiquity Prize in 1994.
Dr Bryce Barker is a Senior Lecturer in Anthropology at the University of Southern Queensland
Ian J. McNiven is Head of Indigenous Archaeology in Monash Indigenous Studies Centre, Monash University, Melbourne, and is a Chief Investigator in the Australian Research Council Centre for Excellence for Australian Biodiversity and Heritage. His community-based research focuses on understanding the long-term development of Australian Indigenous maritime societies and the archaeology of seascapes and ritual and spiritual relationships with the sea.
He has held academic positions at the University of Queensland and The University of Melbourne, and visiting research fellowships at Cambridge University and Oxford University. Ian has considerable private industry experience as a cultural heritage consultant, and has worked on numerous native title cases including as an expert witness for the Torres Strait sea claim. Other research interests include the archaeology of western Victoria, the southern coast of New Guinea, and islands of the Queensland coast, and the colonial history of Indigenous archaeology.
In 2007-2009, Ian was President of the Australian Archaeological Association and he is an elected Fellow of the Royal Anthropological Institute, the Society of Antiquaries London, and the Australian Academy of the Humanities.
About The Cover
Front cover photograph: Cygnet Repu of Mabuyag Island, Zenadh Kes (Torres Strait), painting a Kaigas (shovelhead shark), his maternal totem (awgadh), at Puluw Kod in 2001. Kind permission from Cygnet Repu to reproduce the photo. Photo courtesy of Ian J McNiven.