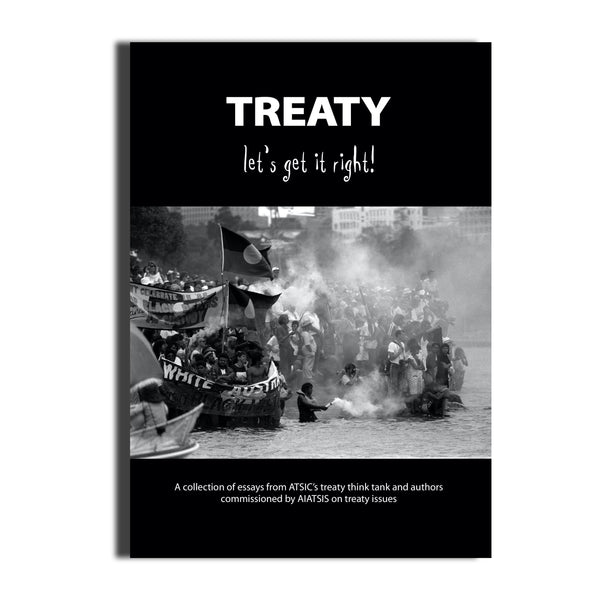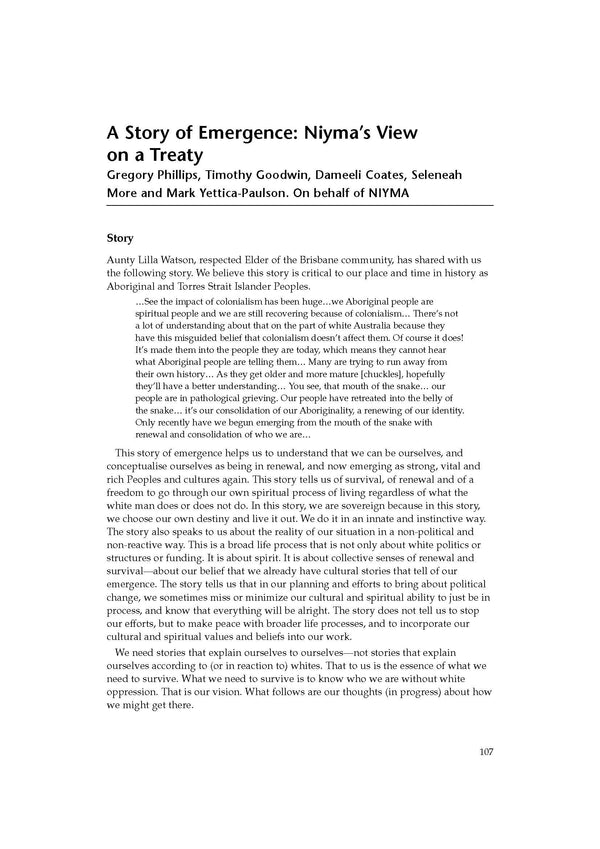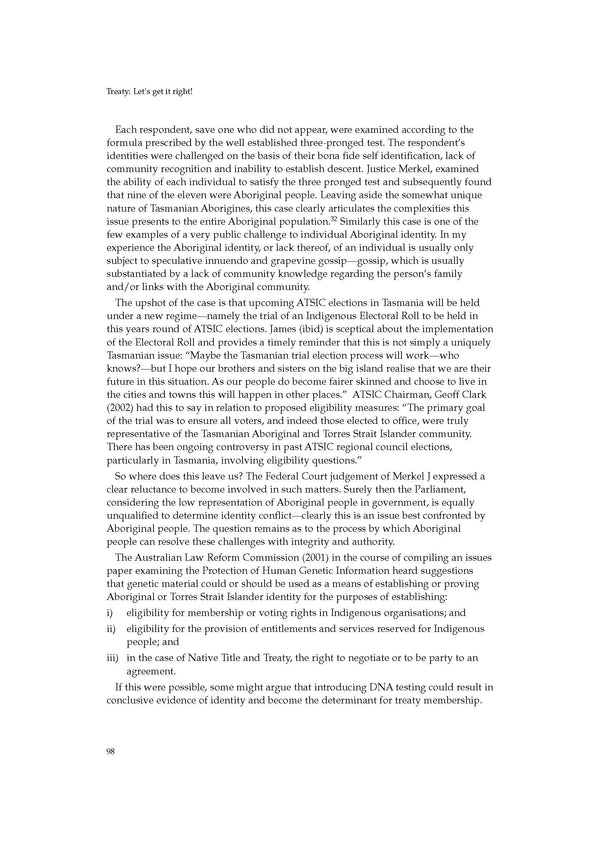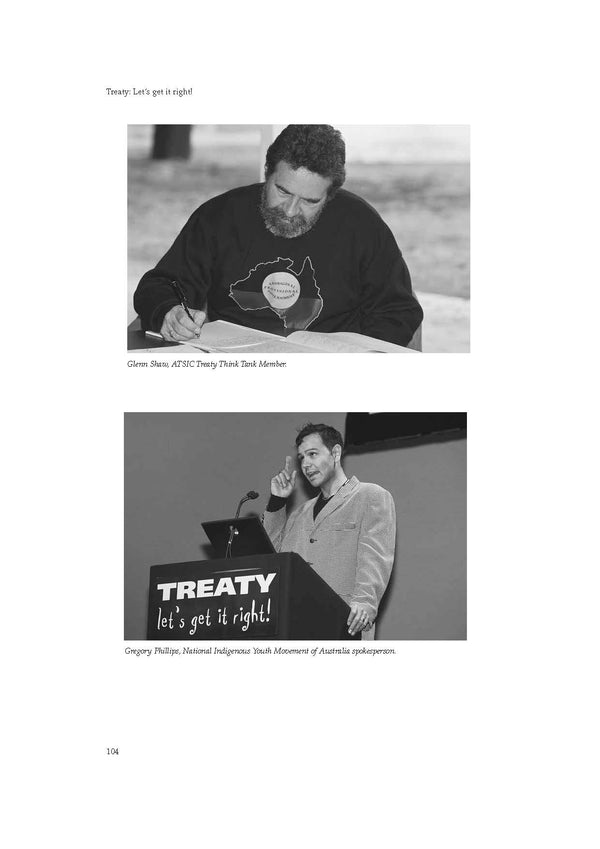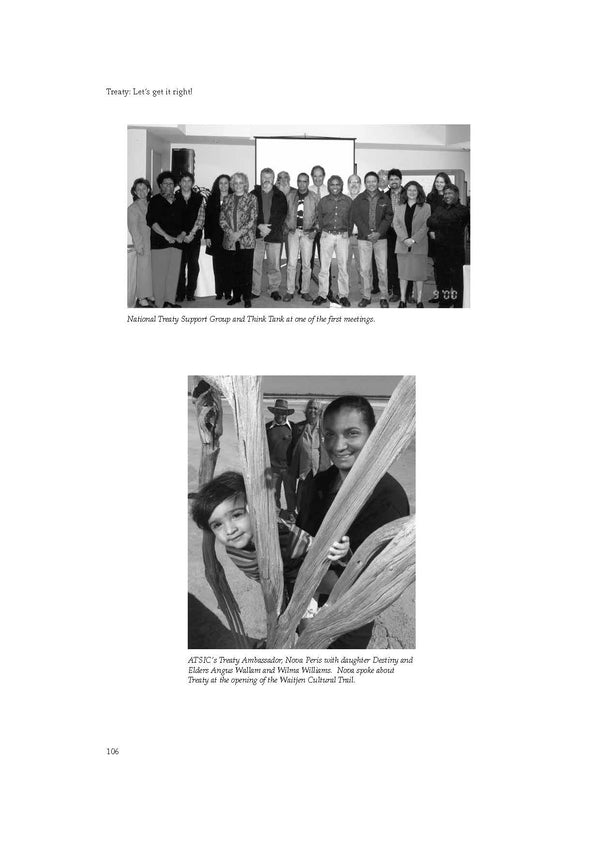 This collection of essays was commissioned by ATSIC and AIATSIS to stimulate discussion and debate about a treaty. 

Production details
Paperback
250mm x 175mm x 14mm
224pp
Released June 2003
ISBN

9780855754334
Contents
Preface
Acknowledgements
Chapter 1: Citizenship, Assimilation and a Treaty
Chapter 2: Practical Steps Towards a Treaty- Structures, Challenges and the need for Flexibility
Chapter 3: Unfinished Business- A Shadow Across Our Relationships
Chapter 4: Negotiating Settlements- Indigenous Peoples, Settler States and the Significance of Treaties and Agreements
Chapter 5: How Do We Treat Our Treasures? Indigenous Heritage Rights in a Treaty
Chapter 6: Indigenous Education, Languages and Treaty- The Redefinition of a New Relationship with Australia
Chapter 7: 'Who's Your Mob?'— The Politics of Aboriginal Identity and the Implications for a Treaty
Chapter 8: A Story of Emergence— NIYMA's Views on a Treaty National Indigenous Youth Movement of Australia (NIYMA)
Chapter 9: Native Title, 'Tides of History' and Our Continuing Claims for Justice— Sovereignty, Self Determination and Treaty
Chapter 10: International Human Rights Law and the Domestic Treaty Process
Chapter 11: Indigenous Disadvantage, Indigenous Governance and the Notion of a Treaty in Australia: An Indigenous Perspective
Chapter 12: Treaty and the Self-determination Agendas of Torres Strait Islanders- A Common Struggle
Chapter 13: Mabo Ten Years On— Small Step or Giant Leap
Chapter 14: Sorry Day Speech, Melbourne 2003
Bibliography
Notes
About the author
Contributors include:
Professor Marcia Langton
Professor Larissa Behrendt
Professor Michael Dodson
Dr Lisa Palmer
Terri Janke
Robynne Quiggan
Michael Mansell
Dr Martin Nakata
Lester-Irabinna Rigney
Darryl Cronin
Hannah McGlade
Megan Davis
Louise Taylor
Senator Aden Ridgeway
National Indigenous Youth Movement of Australia
Nova Peris OAM.
About the cover
Front cover image: Australia Day Protest, courtesy the Fairfax Photo Library.
Back cover image: Treaty watermark. This watermark was designed by Tony Albert and symbolises an eye looking towards the future where coexistence and cooperation exists between both indigenous and non- Indigenous Australians.