Cultural expression, identity and politics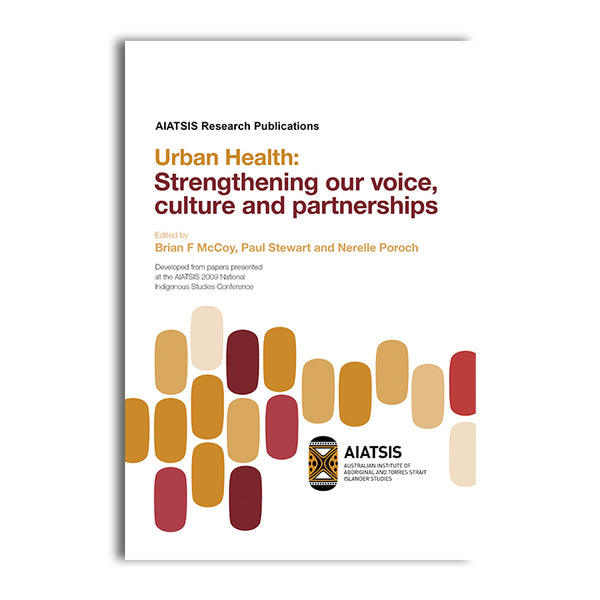 This volume discusses experiences and insights of Indigenous and non-Indigenous researchers from across Australia on health challenges and successful strategies for urban Aboriginal health, with chapters on diabetes prevention, caregiving, injury prevention and the power of sport to reduce chronic disease.

This volume is bookended by two papers that identify and describe key and important messages that underlie all the papers in this volume. The first, by Paul Stewart and Ngarra Murray, describes how urban Aboriginal researchers were supported in telling their stories at an international mental health conference. Their recounting of this process is a clear reminder of how important knowledge within communities and among individuals has, in the past, been too easily ignored, marginalised and silenced. Universities, health researchers and health providers have too often sought to know and voice the health needs of Aboriginal and Torres Strait Islander people without listening and connecting with the people first. The final paper, by Michael Wright and Brian McCoy, concludes the collection with an important reminder: that such voices can only come through forming new partnerships, where careful listening and respectful conversations occur.
Production Details
Paperback
245mm x 165mm x 8mm
138pp
Released June 2012
ISBN 

9781922102096
Excerpt
Contents
Introduction (Brian F McCoy, Paul Stewart and Nerelle Poroch)
Chapter 1: Promoting Aboriginal voices within health: Developing a new model of engagement (Paul Stewart and Ngarra Murray)
Chapter 2: Diabetes prevention evidence and urban Aboriginal and Torres Strait Islander peoples: Reshaping a square peg (Karen Adams)
Chapter 3: Factors affecting resilience of Aboriginal and Torres Strait Islander grandmothers raising their grandchildren (Meegan Kilcullen, Anne Swinbourne and Yvonne Cadet-James)
Chapter 4: Researching the safety of Indigenous children and youth: An urban perspective (Kathleen Clapham, Freidoon Khavarpour, Reuben Bolt, Mark Stevenson and Steve Su)
Chapter 5: 'My people right here…' Indigenous young people, alienation and paint sniffing in inner Brisbane (Tom Ogwang, Leonie Cox and Jude Saldanha)
Chapter 6: After the final siren: The power of sport to reduce chronic disease for Aboriginal and Torres Strait Islander men (Brian F McCoy, Randal Ross and Jacinta Elston)
Chapter 7: Beyond the Winnunga Holistic Health Care Prison Model (Nerelle Poroch and Julie Tongs)
Chapter 8: Giving and receiving care: Reframing the work of Aboriginal care-giving (Michael Wright)
Chapter 9: Empowering public health research: An Indigenous and non-Indigenous reflection on public health research (Michael Wright and Brian F McCoy)

About The Author
Grace is presently a Visiting Scholar in the Research Section of the Australian Institute of Aboriginal and Torres Strait Islander Studies (AIATSIS) and a Senior Research Fellow at the National Centre for Indigenous Studies (NCIS) at the Australian National University (ANU). She began work at (the then) AIAS as Research Assistant in Ethnomusicology to Dr Alice Moyle. Later, she worked as an audiovisual archivist at AIATSIS until 2002, when she moved to the Native Title Research and Access position. Grace is also a Member of AIATSIS.
About The Cover
Cover design by Inprint Pty Ltd