A political history of Aboriginal land rights in New South Wales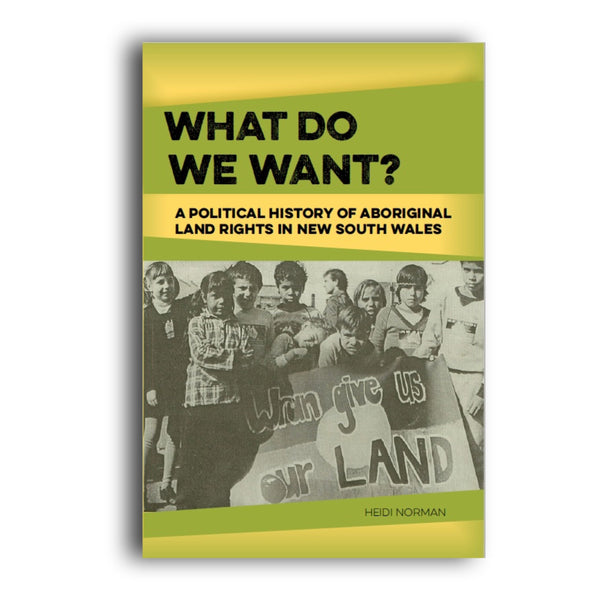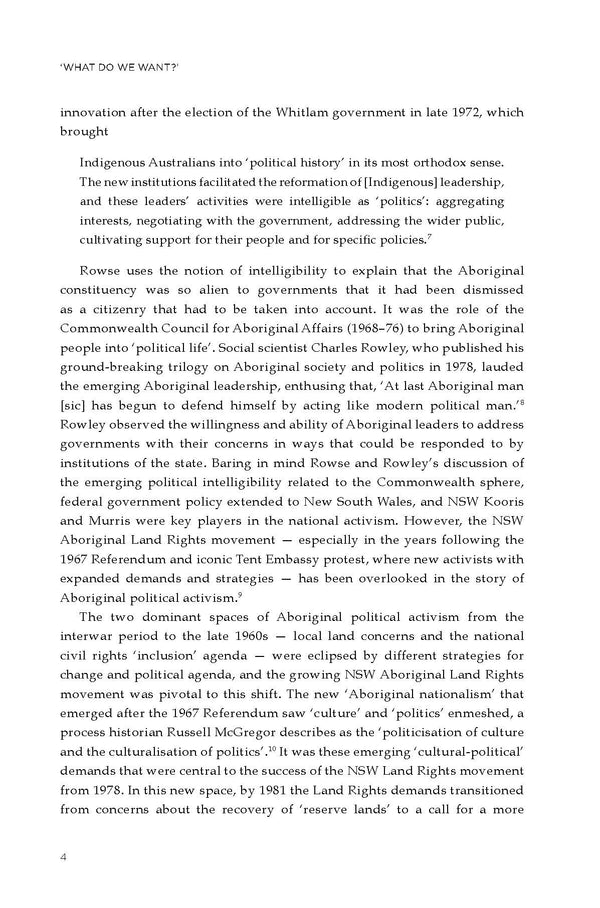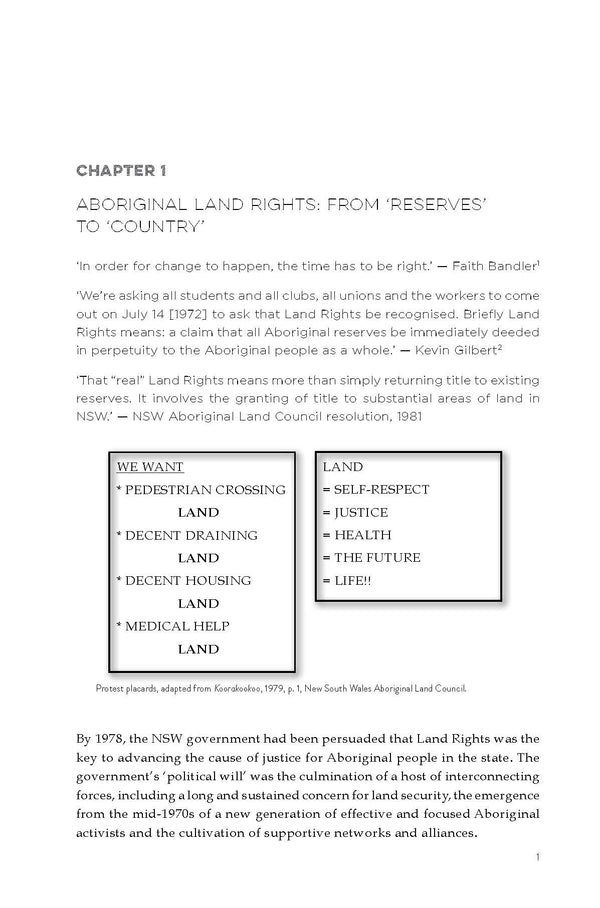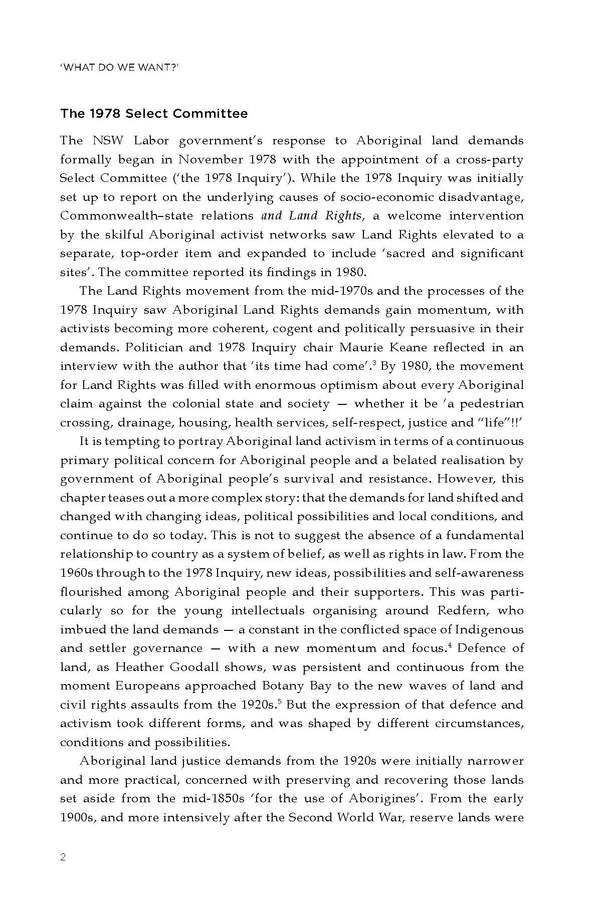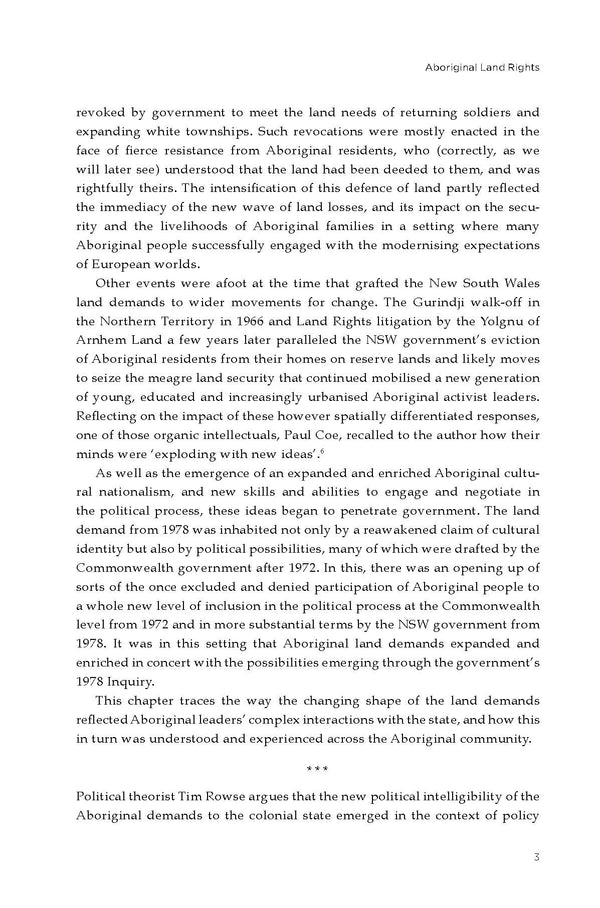 'What do we want?' is the first study of the most far-reaching and innovative Aboriginal land rights laws in the country. Heidi Norman tells a story full of possibility, tensions and entanglements as Aboriginal people took up the political demand of self-determination and worked to address their community disadvantage, all the while grappling with the expectations of government.
The laws, passed in 1983 by the Wran Labor Government, provided a mechanism for recovering land and the fifteen-year funding stream, to compensate for loss of land and culture, was intended to fund the more than 120 representative Aboriginal land councils, as well as support Aboriginal-run enterprises.
Yet chronic disadvantage continues for many Aboriginal people in NSW and Aboriginal land councils are yet to fully realise the expectations of their members.
'What do we want?' reveals the challenges of Aboriginal adjustment to modernity as Land Councils focus their efforts on profitable enterprises to resource community social and cultural initiatives.
Production Details
Paperback
288pp
Released May 2015
ISBN 

9781922059901
Contents
Illustrations between pp. 112 and 113
Acknowledgments
Acronyms and abbreviations
Introduction: from extrinsic to intrinsic
Chapter 1: Aboriginal Land Rights: from 'reserves' to 'country'
Chapter 2: Government, Aborigines and power: the 1978 Land Rights Inquiry
Chapter 3: The Aboriginal Land Rights Act: politics and the art of the possible
Chapter 4: Working with the Act: self-determination and modern rule
Chapter 5: Justice, tradition, progress: shifting land strategies under the Act
Chapter 6: Defending the Act: Aboriginal civil society and the market
Chapter 7: Aboriginal governmentality: technologies of the self
Chapter 8: What do we want? Land Rights!
Notes
Index
About The Author
Heidi Norman is a Senior Lecturer in the Social and Political Change group, core member of CCS and member of the Southern Theory and Environment and Communication Programs. She researchers and publishes in the areas of NSW Aboriginal history and politics with a particular focus on land and its management and the Aboriginal administrative domain.
Her Aboriginal Land rights in NSW study, is a critical account of the interface between the Government's construction of Aboriginal interests in land and the emerging governance of those land and interests by Aboriginal citizens through their land councils. She is a descendant of the Gomeroi people in north-western NSW.
About The Cover
Front cover: 'Children protesting: Wran Give Us Our Land'. Photograph by Elaine Syron, NSWALC.
Back cover: Heidi Norman. Photograph by Barbara McGrady.