Contemporary life in remote Aboriginal Australia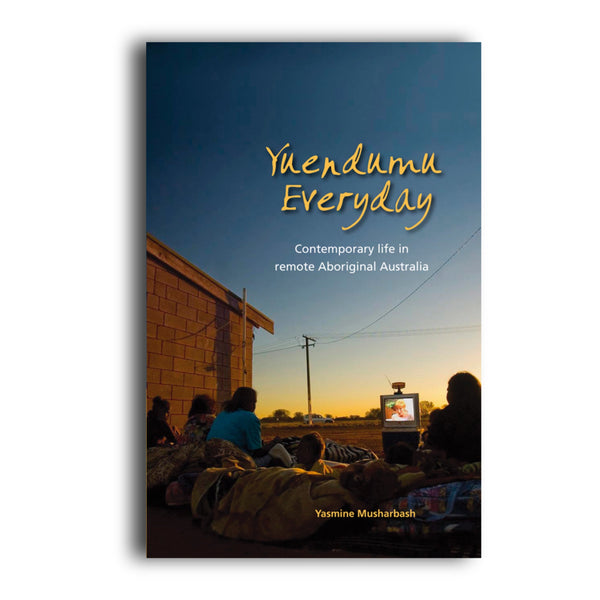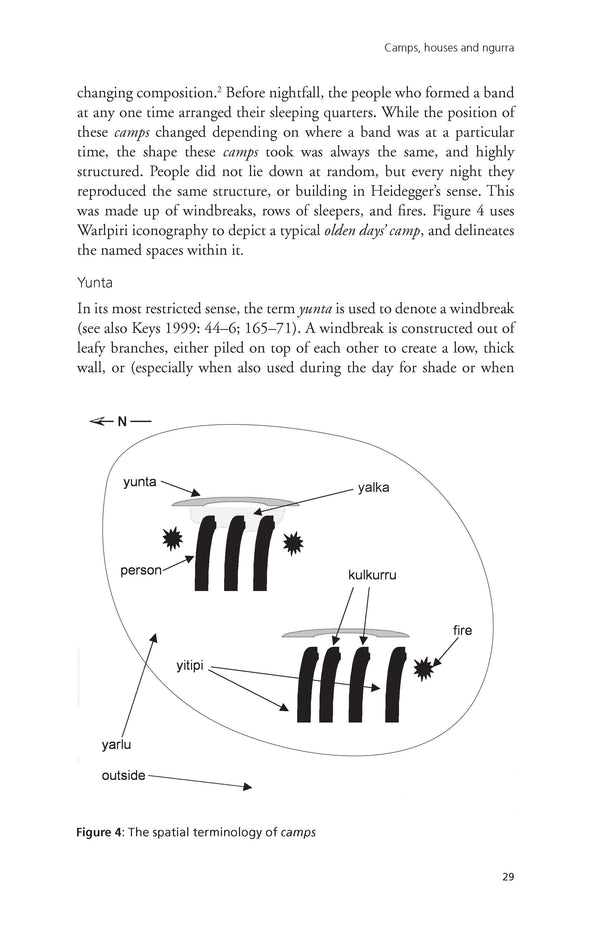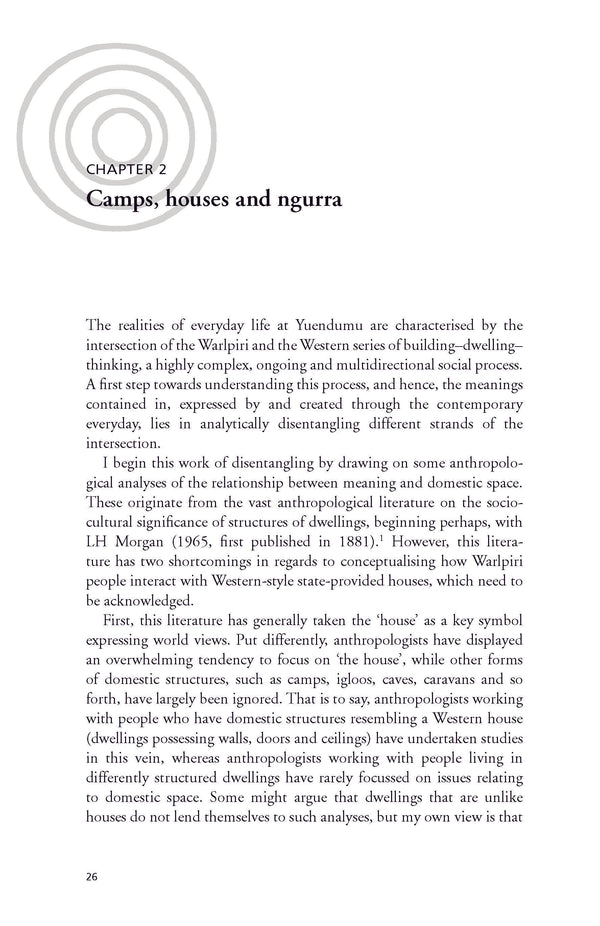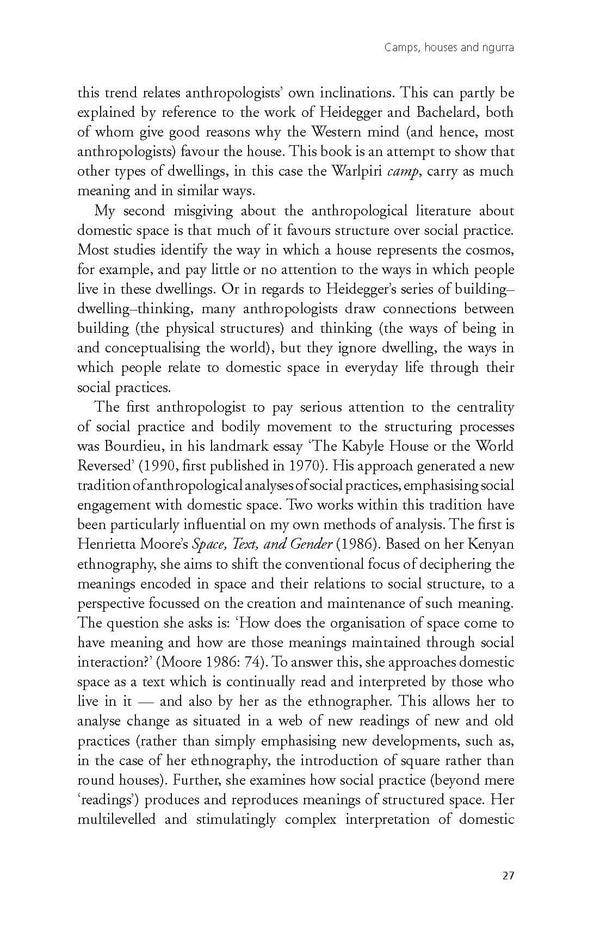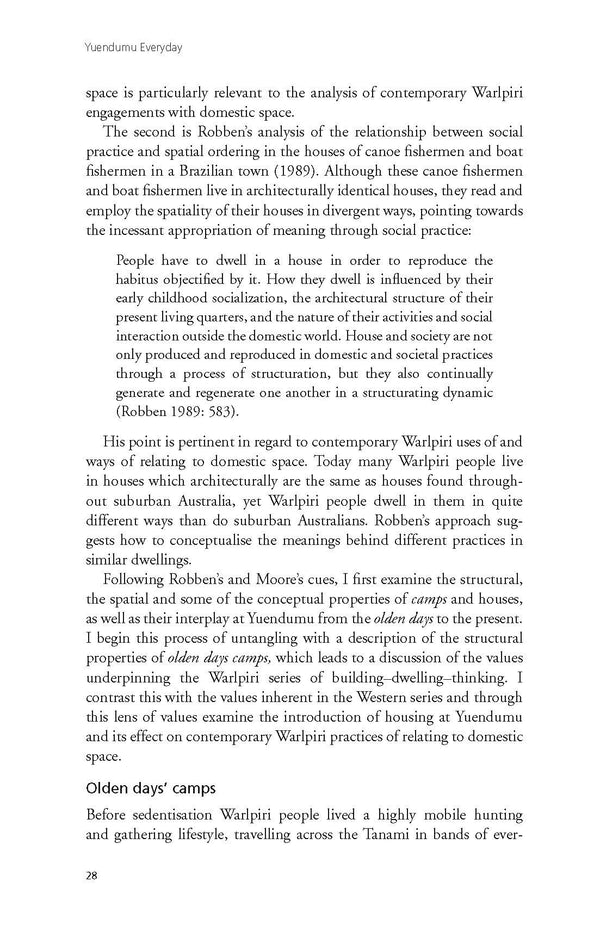 Yuendumu everyday explores intimacy, immediacy and mobility as the core principles underpinning contemporary everyday life in a central Australian Aboriginal settlement. It analyses an everyday shaped through the interplay between a not so distant hunter gatherer past and the realities of living in a first-world nation state by considering such apparently mundane matters as: What is a camp? How does that relate to houses? Who sleeps where, and next to whom? Why does this constantly change? What and where are the public/private boundaries? And most importantly: How do Indigenous people in praxis relate to each other?
Employing a refreshingly readable writing style, Musharbash includes rich vignettes, including narrative portraits of five Warlpiri women. Musharbash's descriptions and analyses of their actions and the situations in which they find themselves transcend the general and illuminate the personal. She invites readers to ponder the questions raised by the book, not just at an abstract level, but as they relate to people's actual lives. In doing so, readers will expand their understandings of Indigenous Australia.
Production Details
Paperback
215mm x 140mm x 14mm
212pp
Released January 2009
ISBN

9780855756611
Contents
Illustrations
Acknowledgments
Note on spelling and orthography
Chapter 1: Everyday life in a remote Aboriginal settlement
Chapter 2: Camps, houses and ngurra
Chapter 3: Transforming jilimi
Chapter 4: In the jilimi- mobility
Chapter 5: In the jilimi- immediacy
Chapter 6: In the jilimi- intimacy
Chapter 7: Intimacy, mobility and immediacy during the day
Chapter 8: Tamsin's fantasy
Conclusion
Appendix- Yuendumu infrastructure
Glossary
Notes
Bibliography
Index
About The Author
Yasmine Musharbash is an anthropologist in the School of Archaeology and Anthropology at the Australian National University. She has been engaging in participant observation-based research with Warlpiri people at Yuendumu for more than twenty-five years.
Her work focusses on the themes of everyday life, boredom, sleep, the night, and especially, social relations: among Warlpiri people, and between Warlpiri people and others, including non-Indigenous people, strangers, monsters, and animals.
She has published widely, including the ethnography Yuendumu Everyday: Contemporary Life in Remote Aboriginal Australia (2008) and the co-edited volumes Monster Anthropology in Australasia and Beyond (2014) and Monster Anthropology: Ethnographic Explorations of Transforming Social Worlds through Monster (2020)..
About The Cover
Cover image: Liam Campbell